EU students funding loophole 'costs Scotland £75m'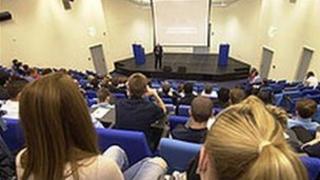 The cost of European students studying in Scotland has quadrupled in nearly a decade, with the Holyrood government having to pick up the bill.
A record number of EU students, 15,930, are now attending Scots institutions, costing the taxpayer £75m a year.
Education Secretary Mike Russell is seeking an end to what is seen as a cheap option for Europeans who would have to pay for education at home.
He said the funding loophole was "no longer tenable".
European law means the Scottish government is obliged to pay the fees of students living in non-UK EU countries, but, with public spending cuts ahead Mr Russell said this was no longer an option.
The latest figures from the Higher Education Statistics Agency show that, between 2008-09 and 2009-10, the number of EU students increased by 17%, from 13,585 to 15,930.
The cost to the government stood at more than £75m a year in 2009-10 - up from £20m in 2000-01, when 8,195 EU students came to Scotland.
Mr Russell said: "Scottish universities have always been cosmopolitan institutions - that is part of their attraction - but we cannot allow them to become a cheap option for students who have to pay to go to university in their home countries.
"That's why I have made clear our intention to tackle the anomalous situation that forces the Scottish government to pay on behalf of students from the rest of the EU who choose to study here."
The minister said he was taking the issue to Brussels next month, adding: "The Scottish taxpayer is now facing a bill of £75m a year - that is simply not tenable."
With the Scottish budget being cut by £1bn, the SNP government has published a green paper to tackle the higher education funding gap.
Options include a graduate tax and increased support from business and donations, while students from England, Wales and Northern Ireland who go to university in Scotland could face annual fees of up to £6,000.
The SNP has ruled out reintroducing up-front tuition fees for Scots.