Trawler sinks after collision off Lewis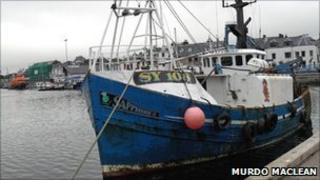 A fishing boat has sunk after a collision at sea about three miles off the coast of Lewis in the Western Isles.
Stornoway Coastguard said the Sapphire, a 15 metre-long trawler, had collided with another fishing vessel, the Silver Chord, at about 1830 GMT.
No-one was injured in the collision off the coast of Bayble on Lewis.
The Sapphire sank within 10 minutes but the one person on board managed to get on to the other vessel.
A spokesman for Stornoway Coastguard said: "A helicopter and Stornoway lifeboat were sent out. The lifeboat put a pump onboard the Silver Chord, which was damaged in the collision. It had a crew of three.
"The vessel was safely back at Stornoway harbour by 2030 GMT.
"The Stornoway Coastguard pump has now been put onboard and will stay on the vessel overnight."
The Marine Accident Investigation Branch is investigating the collision.