Scottish police force merger plan outlined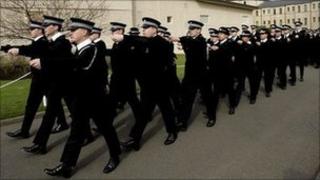 Plans for major Scottish police service reforms, including moving to a single Scottish force, have been outlined by Justice Secretary Kenny MacAskill.
Other options include cutting the number of forces in Scotland from eight to as few as three or four.
Fire and rescue services will also be reviewed, although Mr MacAskill said there was already a "compelling case" for a national service.
Ministers said cash must be saved without hitting frontline operations.
The reforms have been outlined in a new consultation - with ministers stressing that maintaining the current set-up was not an option.
However, the body that represents Scotland's councils dismissed the government's consultation as a "sham".
Cosla said the Scottish government had already made up its mind that a single police force and fire service was the way forward.
Labour and the Conservatives both support a single police force but the Liberal Democrats remain opposed.
The consultation, to get under way next month, will outline three options for fire and police services - eight services with enhanced collaboration between them, a regional structure with fewer boards, or a single service for fire and a single force for police.
Ministers said the case for a single "blue-light service", incorporating police, fire and ambulance, had not been made.
Scotland has about 17,000 police officers across the eight forces and the government said about 25% of the policing budget was spent on headquarters functions.
First Minister Alex Salmond, whose government has pledged to boost additional police officers by 1,000, has previously said that, if faced with having to cut costs, he would put "bobbies before boundaries".
With the total Scottish government annual budget facing a cut of about £1bn, Mr MacAskill said the idea was to reduce headquarters bureaucracy and deliver more autonomy to the frontline.
The minister said the option to maintain eight forces with enhanced collaboration would not make the necessary savings, but stressed questions over pursuing one of the two other options had to be answered.
"On police, a strong case has been made for a single service, but concerns need to be allayed over accountability," Mr MacAskill told MSPs.
"There is an argument for a regional model, but significant challenges have to be overcome regarding efficiency.
"In a country where we pride ourselves in policing by consent, we hope this consultation provides an opportunity to reach a consensus."
On fire services, he added: "In our view, a single fire and rescue service with a national framework and standards will be best at reducing unnecessary duplication and cost and making sure maximum funding is channelled to the front line."
Scottish police chiefs recognise savings need to be made, but have indicated they would challenge plans which would compromise "effective policing".
Labour justice spokesman Richard Baker pressed the government to clarify its preferred option on police reform.
He added: "We believe change is essential in our police and fire services to ensure they are fit for Scotland in the 21st century and to ensure we are maximising investment in front line services right across Scotland in every part of the country."
The Tories' John Lamont backed a single police force but said locally elected police commissioners were needed to improve accountability.
"One police force and one fire service for Scotland is preferable if we can ensure that local accountability is protected or, indeed, enhanced," he said.
Robert Brown, the Liberal Democrat justice spokesman, questioned how much money cutting police forces force would save, saying the Scottish Government was forced to remove a forecast of £194m from an interim report to the Scottish Policing Board.
He added: "The idea of a Scottish police service, a single service, is bad in democratic principle, bad for local communities and local policing and bad in general terms for Scotland."
The Association of Chief Police Officers in Scotland has called for other public bodies - including Scotland's 32 local authorities - to be included in public sector reform.
Lothian and Borders deputy chief constable Stephen Allen said politicians should not be afraid to tear up the present structure to create something new.
But one of Mr Allen's local authority partners, Eric Milligan, who sits on the Lothian and Borders Police Board, said the idea of a single force betrayed the localised history of Scottish policing and threatened the independence of the force.
Grampian Police chief constable Colin McKerracher told BBC Scotland he was in favour of some kind of restructuring, but feared a single force could mean funding issues.
"A few of my chief constable colleagues are concerned about political interference in policing," he said, adding: "That might be an unfounded fear."