BBC reporter attacked in Glasgow market tobacco sting
A BBC reporter was assaulted during an undercover investigation into illegal sales of tobacco.
Investigative journalist Sam Poling was filming a documentary at a market in the east end of Glasgow at the time.
In footage released by the production team, one man is shown pushing Ms Polling then another runs at the film crew with a metal pole.
Ms Poling' s hand was bruised and the production team's car was damaged.
The attack happened when Ms Poling confronted market sellers following months of secret filming for the programme BBC Scotland Investigates: Smoking and the Bandits.
Images taken from the footage show Ms Poling being attacked by a cigarette seller and pulled away by BBC security guards.
As the film crew tried to leave, another man was filmed running towards them carrying a long metal pole.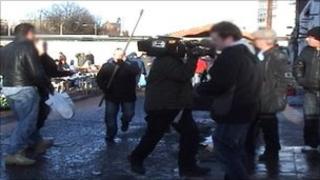 A BBC spokesman said the investigation revealed that more than half of all hand-rolled tobacco in Scotland was either counterfeit or smuggled and one in five cigarettes smoked was fake.
He said: "Using secret filming, the investigation exposes the gangs which are costing British tax-payers £4bn in lost revenue a year.
"The investigation goes to the heart of the supply chain and reveals the criminals' products are the most poisonous ever discovered in the UK."
Footage from the incident will feature in the programme.
BBC Scotland Investigates: Smoking and the Bandits will be broadcast on Wednesday 19 January at 1930 GMT on BBC One Scotland. It will be available on the BBC iPlayer for a week afterwards.