Scottish convenience stores launch healthy foods drive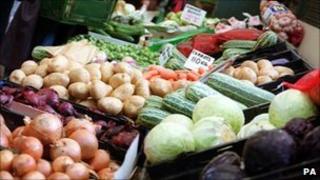 Hundreds of corner shops are to offer deals on healthy foods in an effort to encourage Scots to start the new year with healthier lifestyles.
The move is part of the Scottish Grocers' Federation's healthyliving programme, which aims to offer healthier food choices in local stores.
Shoppers will be able to buy fruit, vegetables, porridge and fish under the programme this month.
More than 250 stores, many of them in low-income areas, are taking part.
Scottish Grocers' Federation chief executive John Drummond said: "Convenience stores understand they have an important part to play in encouraging people to eat a healthier diet.
"This unique event will bring local shops together from across Scotland to offer their customers a range of healthy eating promotions throughout January, a time when many of us are reflecting on changes we need or want to make in our lifestyles and resolving to follow through on those changes."
Scotland's diet
Public Health Minister Shona Robison said the new year was a great time to start taking steps to become more healthy.
She continued: "This programme will make a huge difference to the availability of affordable, healthy food in our local shops. We want to make it easier for people to make healthy choices.
"This is an opportunity for customers to get more choice from their local stores and for retailers to become an integral part of their communities by helping to improve Scotland's diet."
The healthy eating promotion comes as the Scottish government prepares to launch a marketing campaign to encourage Scots to think about how much alcohol they drink and consider cutting down.