Risk of ice across Scotland's roads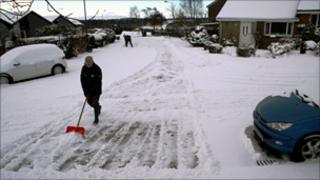 Drivers have been warned of widespread ice on roads across the whole of Scotland.
Roads in Caithness were reported to be hazardous because of sleet and drivers were advised to travel with caution.
In Dumfries and Galloway, police said roads were extremely icy and there were several accidents during the night.
Police said the Clackmannanshire area was particularly badly affected and extra gritter patrols were in place.
Central Scotland Police said there had been crashes on the M80 and M876 on Sunday, where ice was a problem.
Officers expressed concern about the speed of passing vehicles.
The Met Office said that where snow had melted on Sunday afternoon, widespread ice had formed.
Temperatures are expected to pick up this week, with most of the country enjoying milder weather.
The Scotish government's transport multi-agency team, based in Traffic Scotland's control centre, was activated on Sunday evening in response to the weather forecasts.
Transport Minister Keith Brown said: "As Scots head to work today with Met Office forecasts for heavy snow and widespread ice in parts of Scotland, I would urge drivers to check their journeys in advance and follow police advice where necessary."