New Scottish ambulances equipped for snow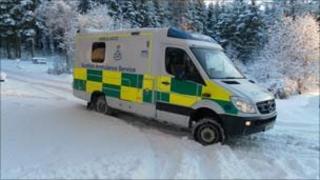 The Scottish Ambulance Service has invested in new ambulances and equipment to cope with adverse weather conditions.
It now has eight new 4x4 accident and emergency vehicles and another two will be delivered by the end of the month.
The vehicles will be based across Scotland.
The service is also investing in snow tyres and chains for a further 52 vehicles and in December took delivery of 12 patient transport 4x4 vehicles.
Pauline Howie, chief executive of the Scottish Ambulance Service, said: "These new vehicles will further enhance the capability of our existing 4x4 fleet to cope with severe weather and difficult terrain.
"Our staff worked tirelessly through horrendous conditions this year, keeping the 999 service running as well as transport to regular hospital treatment for renal, oncology and cardiac cases, often putting the wellbeing of patients before their own."
'Challenging terrain'
She added: "We continuously review contingency arrangements for response to major incidents and extreme situations."
Health Secretary Nicola Sturgeon said: "I am delighted that the Scottish Ambulance Service is to further enhance the resilience of its emergency service with the delivery of a fleet of new vehicles that can be used during extreme winter weather of the sort that we experienced recently.
"Ambulance crews work hard to provide the best patient care at all times but these new vehicles will assist staff experiencing difficult driving conditions and challenging terrain."