Tory peer Lord Forsyth conquers Antarctic peak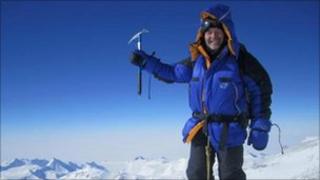 The Conservative Peer Lord Forsyth has successfully climbed Antarctica's highest peak, Mount Vinson, raising more than £350,000 for charity.
The 56-year-old conquered the 16,000ft, ice-covered mountain after setting out with his team just after Christmas, braving temperatures of -30C.
The former Scottish Secretary undertook the expedition to support Marie Curie and Children in Need India.
His sponsors included David Cameron and former prime ministers.
"It's been a fantastic trip for me," said Lord Forsyth, in a message recorded for his website, which he used to document the trip.
"I confess when I set off on Boxing Day I thought I had bitten off more than I could chew and it was with a certain degree of apprehension."
He added: "I owe a huge amount to my family for letting me go."
Lord Forsyth, who was Scottish Secretary from 1995-1997, said he was "overwhelmed" with the level of donations he received, which came from political figures including Tony Blair, Gordon Brown and Sir John Major.
The peer, who was persuaded to tackle Mount Vinson by explorer Sir Ranulph Fiennes, is a keen climber who previously scaled Mount Kilimanjaro and Aconcagua, South America's highest mountain.
He reached the summit of Mount Vinson at 1700 local time, on 4 January.
Lord Forsyth said he was looking forward to getting home and spending time with his family.