Six Scottish flu deaths in last week confirmed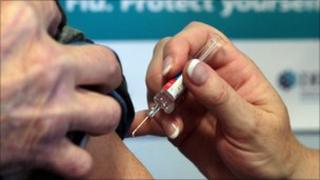 Six people in Scotland have died in the last week after contracting flu, the Scottish government has confirmed.
They were among a group of 38 people taken into intensive care suffering from the illness.
However, health chiefs said the figures were in line with what would be expected at this time of year.
Health Secretary Nicola Sturgeon also said the number of people consulting their GP with flu-like symptoms had fallen in the last seven days.
And she pointed out vaccination rates were on the rise - with an increase in the number of pregnant women taking up the offer of a flu jab.
The flu jab uptake rate for people under the age of 65 who are eligible for the vaccine has reached 49%.
Amongst those aged 65 and over, the rate stands at 71.7%.
Meanwhile, the Scottish government moved to reassure the public there were no problems with its stockpile of seasonal flu vaccines despite issues in parts of the UK.
The statement came after the UK Department of Health admitted to "local supply" problems and asked suppliers to source more.
Since the start of the flu season, 61 people have required treatment in intensive care in Scotland, with 10 deaths.
The rate of GP consultations for flu-like illness across Scotland stood at 52 per 100,000, a slight decrease from last week's figure of 55.8 per 100,000.
Ministers said this reflected normal seasonal flu activity.
Ms Sturgeon said: "The number of people consulting their GP with a flu-like illness in the last week has decreased slightly. These figures are consistent with what we would normally expect at this time of year and remain lower than in other parts of the UK.
"However, we remain vigilant of the possibility of an increase in the coming weeks.
"Unfortunately, we have seen a further six people die due to seasonal flu. I continue to urge those eligible to make an appointment with their GP to get the vaccination. The jab is the best way to protect yourself against the virus."
The figures showed flu vaccine uptake among pregnant women with no other risk factors rose from 27% to 32.2% since last week, while the rate for pregnant women at risk was now 52.2%.
Midwives across Scotland have again been urged to encourage pregnant women to have the vaccine.
Meanwhile, the Scottish government said more than a million doses of seasonal flu vaccine had already been distributed to GP surgeries and pharmacies.
An additional stockpile is also available, should it be required.