Call to ban self-service tills for buying alcohol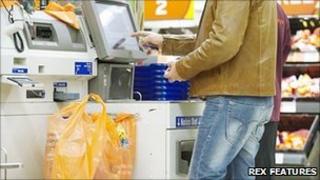 The use of self-service supermarket tills for buying alcohol should be banned, according to an MSP.
The SNP's Stewart Maxwell is writing to supermarkets suggesting they "act as responsible retailers" and voluntarily end sales through self-service tills.
He said a supervisor overseeing a number of tills may struggle to keep an eye on customers' ages.
The Licensing Act 2005, which bans the unlicensed sale of alcohol, was drafted before the use of self-service tills.
Mr Maxwell said: "With the increasing use of self-service tills this is an area of licensing law we should look at.
"It would make much more sense for alcohol as a licensed product to only be for sale through a full service till where a sales assistant can properly assess a customer's age.
"I will be writing to the supermarkets asking them to institute this policy as part of their approach to selling alcohol responsibly and I hope they will take up this idea."
He said expecting an assistant to check identification and assess the age of customers, while overseeing a number of tills, could put undue pressure on staff.
In November, a Glasgow supermarket was banned from selling alcohol through its self-service tills for a month after a 16-year-old was sold a bottle of cider in a police test purchase operation.
Some supermarket systems automatically flag up age-restricted items, such as alcohol, and these need to be manually authorised by an assistant.