Survey finds sore arm 'more likely' with swine flu jab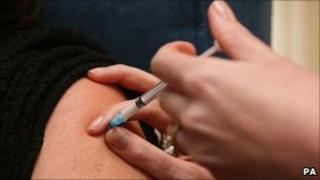 The vaccination against swine flu was more likely than previous flu jabs to leave you with a sore arm, according to research carried out in Scotland.
But experts stressed there was nothing to suggest the vaccine was unsafe.
A survey of more than 1,000 people in the west of Scotland found 37% reported pain or discomfort in their arm after the injection.
The research was carried out by the medical research company Patients Direct.
It found that those who had the swine flu jab, or a combination jab containing both swine flu and seasonal flu strains, were more likely to report pain than those who received the vaccine against seasonal flu.
Patients Direct director Dr Alan Wade said: "The interesting thing was that we could tell the difference between the seasonal flu and the swine flu vaccine.
"The swine flu vaccine did cause a bit more pain and discomfort. But to be honest it's not that serious if you're getting a vaccine which is stopping you from getting a serious illness."
The survey also found that 24% of respondents reported flu-like symptoms after the jab and 2% had to take time off work because they felt so ill.
Side effects
In all, 45% of people who had the swine flu jab reported mild side effects shortly after the injection.
Dr Alan Wade said: "A quarter of people actually complained of flu-like symptoms. Most of these people went to work but what is a little bit concerning, particularly for employers, might be that these people were a lot less efficient immediately after they had their flu jag."
Patients Direct will present their findings at the World Flu Congress in Amsterdam.
A spokesperson for GlaxoSmithKline, who made the vaccine 'Pandemrix' which was most commonly prescribed during last year's pandemic, commented: "The reporting of mild side-effects such as a painful arm following vaccination with GSK's pandemic flu vaccine has also been seen in our own clinical trial programme and other published studies and is to be expected, as the vaccine contains a component called an adjuvant.
"The purpose of the adjuvant is to stimulate a stronger immune response against pandemic flu. Unavoidably that more pronounced immune response also produces side-effects such as sore arms and flu-like symptoms in some people."
The company added that this year's flu vaccine, which protects against three strains of flu, including swine flu, did not use an adjuvant and therefore should not cause so many sore arms.
'Confidence boost'
Tens of millions of people around the world have received Pandemrix and other swine flu vaccines.
Data submitted to the European Medicines Agency suggests fewer than 0.001% suffered a reaction. However, these monitoring systems tend to record more serious reactions rather than mild side-effects.
Dr Wade argued that the kind of survey he had conducted could actually improve confidence in the swine flu vaccine.
"The general public don't trust the experts. What we have to do is involve the general public. For the patients who took part in this survey they will get feedback from us about what happened to them personally and the whole group," he added.
"Assuming the feedback is positive, the following year they'll be much more likely to get the jag again."