Skeleton train service restored to north of Scotland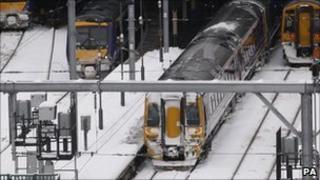 A skeleton train service has been restored to the north of Scotland after snow virtually wiped out services beyond the central belt on Friday.
One return service was running between Aberdeen and Edinburgh and Inverness and buses have been laid on to transport passengers.
Buses are running instead of trains between Glasgow and Aberdeen.
Drivers have been urged to take care if they need to travel, after a warning of widespread ice and wintry showers.
Overnight temperatures dipped to -12C in rural areas and down to about -3C in cities and towns.
Forecasters said the conditions could continue into next week, despite a slight rise in temperatures.
The Scottish government said urgent action was being taken to ensure the wellbeing of homeless people in the freezing conditions.
It said all local authorities had been contacted to ensure enough places were available in homeless hostels.
Some basic services are now being affected by the weather, with the Royal Mail reporting problems with about 10% of its deliveries on Friday.
The Petrol Retailers Association also said 500 garages could run out of fuel this weekend.
Restrictions on how long lorry drivers can stay at the wheel have now been temporarily relaxed because of the weather.
Police said all main roads in Scotland were open, but urged drivers to take care.
Meanwhile, rail services between Glasgow Queen Street and Edinburgh Waverley are still reduced from four an hour to two.
Buses will also shuttle between Dunblane, Stirling and Falkirk High.
Special programme
Air passengers have been warned of further disruption as Spanish air traffic controllers are in dispute, leading to the closure of most of the country's airspace.
Severe weather in northern Europe could also lead to flight delays, so passengers have been advised to contact their airline before travelling to airports.
In the east, walkers and skiers in the Pentland Hills and on Arthur's Seat in Edinburgh were warned of the risk of avalanches on Friday.
Sporting fixtures have also been hit by the bad weather, with all six of the weekend's Clydesdale Bank Premier League games postponed.
BBC One Scotland will be showing a special programme on Frozen Scotland at 1800 GMT on Sunday.
Jackie Bird will look back at the week the country ground to a halt and ask how people will cope over the rest of the winter.