HGV delivery driving rules relaxed temporarily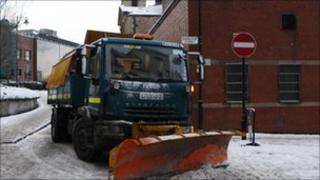 Rules governing the length of time HGV drivers can stay at the wheel have been relaxed due to the severe weather.
The move was introduced temporarily so that hauliers can distribute food supplies, as well as oil and gas to domestic and agricultural premises and de-icer products to airports.
The Department of Transport said the measures would be kept under review.
Scotland's Transport Minister Stewart Stevenson said the relaxation was a positive response to the conditions.
The rules were relaxed for snow ploughs, gritters and fuel delivery drivers on Friday, with a nine-hour driving limit increased to 10 hours and the raising of the 56-hour weekly limit.
But the Scottish government had asked Westminster to extend this to all HGV drivers to allow further food deliveries.
After the move was confirmed, Mr Stevenson said: "The whole logistics chain will have the opportunity to work longer hours, take a bit less rest, provided their managers think that's the safe thing to do.
"But it will, for the next week, ensure that we're able to keep on top of this supply chain, make sure any shortages are a very short duration and limited impact."
The Department of Transport said the requirement for a 45-minute break after driving for four-and-a-half hours was still in force.