Councils 'use radio most' for school closure message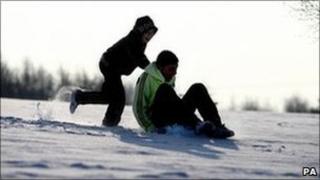 Scotland's councils rely most on radio bulletins and word-of-mouth to let parents know schools are closed due to bad weather, BBC Scotland has found.
The news website asked all 32 local authorities what policies they used to get the message across.
Of the 31 which responded, all said they used local radio bulletins and 15 said parents passing on the news to other parents was also key.
But new technology is being used with 17 on Twitter and 13 sending e-mails.
The school closure communication policies of most of Scotland's councils were tested this week following relentless snow falls and freezing temperatures.
Thousands of pupils at hundreds of schools have been away from the classroom for three days or more.
A handful of councils, including East Lothian, decided early in the week that its schools would remain shut until Monday.
Most others have opted for a daily update, with decisions being made as late as 0800 GMT.
Glasgow City Council closed all of its schools on Tuesday, but parents did not learn of the decision until about 0810 GMT.
A council spokesperson told the website: "As Glasgow has to communicate with the parents and guardians of approximately 70,000 youngsters, we need to use a variety of communication channels to cascade information to parents.
"The ways of doing this will be done in consultation with head teachers to decide the best method for each school and local community.
"For example, in a school last year, a walking bus was organised and teachers passed on information to parents as their child was taken home from school."
Council bloggers
The news website survey, carried out on 2 December, found that 12 councils make on-the-day announcements; nine said they would let parents know the night before and 10 said decisions would depend on the weather conditions.
All councils use a number of methods to communicate closures, but Midlothian Council - which has shut school doors until Monday - was the local authority which appeared to embrace all new technologies.
It communicates on Twitter, Facebook, through blogs, e-mail, text message, websites, local radio and via word-of-mouth.
Only one other council, East Lothian, uses a blog to get the message out. Of the 31 local authorities which responded, 23 said they used or partially used text messaging and dedicated phone hotlines.
One of Scotland's smallest local authorities, Orkney Islands Council, said it had been encouraging Orcadians to sign up to its Facebook page since October, in preparation for the winter.
The authority also posts information on BBC Radio Orkney's Facebook page, which has about 4,000 followers.
A council spokeswoman said: "Last year we piloted using Twitter to get information about school closures out. But we found it did not give enough space for all the details."