Ice warning across Scotland as temperatures drop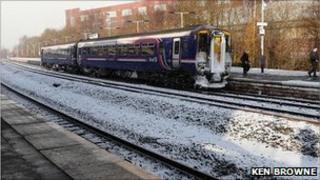 The wintry weather is causing further disruption across Scotland as overnight temperatures dropped as low as -20C.
Highland village Kinbrace in Sutherland recorded the UK's overnight low, at -20.9C, just slightly colder than Braemar in Aberdeenshire at -20.1C.
In Edinburgh it was -13.7C overnight, while Glasgow averaged -10C.
The arctic weather means virtually no trains have been running north of Glasgow and Edinburgh. Replacement busses are running to Aberdeen.
On the roads, most major routes were open, but the M8 motorway was closed for a while eastbound near Harthill services, in North Lanarkshire, because of an accident blocking the road. This caused major delays throughout the morning.
In Edinburgh, the M9 has reopened westbound at junction 2 Phillipstoun following an accident.
Many roads in Dumfries and Galloway and the Borders have patches of black ice but everything is passable with care.
In Central Scotland, police said many roads across the Forth Valley were affected by black ice and are urged drivers not to travel unless necessary.
Some schools are closed for a fifth day.
These include all schools in Fife, East Lothian, Midlothian, West Lothian, North Lanarkshire and the Borders.
On the railways, ScotRail's John Sheridan said there was severe disruption caused by "arctic weather conditions".
He said some trains had left Perth for Glasgow and Edinburgh but most other services north of the central belt had been cancelled - including the Fife circle.
The Glasgow to Edinburgh service was again reduced to half-hourly.
The operator said it had withdrawn services on the West Highland Line; the Far North Line, between Aberdeen and Inverness; Perth to Inverness; and Glasgow Queen Street to Inverness.
East Coast services north of Edinburgh are also withdrawn.
In Glasgow, the Cathcart service has been cancelled and other services are delayed.
There are no trains between Glasgow Central and Edinburgh via Shotts.
On Thursday night more than 200 train passengers became stranded for almost five hours near Forgandenny, outside Perth.
ScotRail said the incident happened when the freezing temperature caused the loss of air pressure required to work the systems on the Glasgow to Aberdeen train.
The train left Glasgow at 1542 GMT. The passengers were not on the move again until just before 2130 GMT after a replacement train was sent.
A ScotRail spokesman urged customers to check its website before setting out and to allow more time for journeys.
On the roads, the regulations dictating how long snow clearance drivers can be behind the wheel were suspended on Thursday due to the severe and prolonged weather conditions facing Scotland.
First Minister Alex Salmond said: "By temporarily suspending time limits on driving time for gritters, we can ensure more roads are kept clear and give local authorities greater flexibility to deal with these difficult conditions and keep Scotland moving."
Robust plans
He told the Scottish Parliament that Scotland had two months' supply of grit, even with heavy use.
And Chief Constable Kevin Smith, chairman of the Acpos road policing business area, added: "Motorists need to pay extra attention and be prepared to adapt to changing conditions.
"Even the most experienced motorists can find themselves getting into difficulties when the roads are icy or covered in snow.
"Our advice is to consider if your journey is absolutely necessary and if you must drive then ensure that you and your car are adequately prepared for the journey ahead."
Edinburgh Airport, which reopened its runway at 1600 BST on Thursday after a series of closures during heavy snow earlier this week, said it was managing to cut down the number of backlogged flights.
A spokesman for the airport said it was hoped more flights would operate on Friday but passengers were advised to check with their airline before travelling to the terminals.
Campbeltown Airport in Argyll reopened at 1600 GMT.
The east of Scotland has seen the brunt of heavy snowfall this week but the areas should see lighter showers on Friday.
The Met Office has issued a severe weather warning for the Highlands, Orkney, Shetland, the whole Strathclyde region and Dumfries & Galloway.
Twitter and e-mails
It said rain, sleet and snow showers would fall on frozen ground on Friday evening and early on Saturday.
Forecasters said this would lead to widespread ice forming on untreated surfaces and result in dangerous driving conditions.
Meanwhile, BBC Scotland's news website has found that the country's councils rely most on radio bulletins and word-of-mouth to let parents know schools are closed due to bad weather.
It asked all 32 local authorities what policies they used to get the message across.
Of the 31 which responded, all said they used local radio bulletins and 15 said parents passing on the news to other parents was also key.
But new technology is being used with 17 on Twitter and 13 sending e-mails.