Old bank notes 'not the ticket' for ScotRail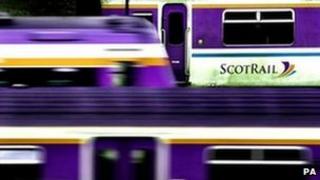 ScotRail has admitted its station ticket vending machines will not accept some Scottish bank notes.
The problem has emerged because they have not been programmed to recognise older designs.
Three Scottish banks produce their own notes, with a total of 27 different designs currently in circulation.
Scottish banks do not withdraw old designs when new ones are produced, so a growing number of notes are currently being used by rail passengers.
But ticket vending machines (TVMs), which were introduced to about 150 Scottish railway stations in 2004, only recognise the newest from the three banks producing them - RBS, Clydesdale and the Bank of Scotland - as well as those from the Bank of England.
The machines accept notes in denominations of £5, £10 and £20.
Series of raids
Adjustments are made to the machines to phase out older notes, following consultation with banks and other monetary experts.
ScotRail admitted it had received a small number of complaints from passengers. It said it was working with the machines' manufacturer to allow more designs of note to be recognised, including older ones still in circulation.
A spokesman said: "The TVM manufacturer is aware of problems caused by the increasing number of different types of notes in circulation.
"A solution is being worked on. It is expected adjustments will be made next year (2011) which will allow some 50 different types to be accepted - compared with 16 at present."
Earlier this year ScotRail altered about 100 of its vending machines - two-thirds of the total - after a series of raids on them by thieves.
In the raids four-figure sums of cash were taken and damage estimated at thousands of pounds was caused.
British Transport Police are investigating and have made a number of arrests.
The modified machines no longer accept cash, but ScotRail said customers using them could still obtain a full range of discounted fares when paying by credit or debit card.