SNP minister Jim Mather brands Ireland 'incompetent'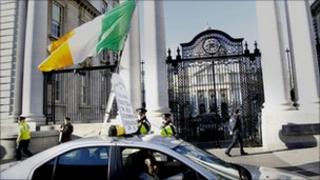 The Scottish enterprise minister has branded Ireland's handling of its economy "incompetent", despite the SNP's previous praise for the country.
Jim Mather was speaking as the Scottish Parliament debated the economy.
First Minister Alex Salmond had previously outlined his vision of matching the success of Ireland's "Celtic tiger".
The Republic of Ireland has been forced to agree a financial rescue package with the EU.
The country's crisis has been brought on by the recession and the almost total collapse of Ireland's banks.
The Scottish enterprise minister's remarks came as he was being pressed on economic policy and banking by the Liberal Democrats' Robert Brown.
Mr Mather said: "I think the member presupposes that Scotland would have been as incompetent as Ireland and as incompetent as the UK financial management, and not the least bit like Norway."
Mr Brown replied: "Well I'm bound to say that's not what the SNP used to say about Ireland, is it?
"That's a very interesting admission from Mr Mather in that regard."
In a speech to the Council on Foreign Relations in New York in 2007, not long after the SNP came to power, Mr Salmond said he wanted to transform "Scotland's historic economic underperformance" by creating what he called a "Celtic lion".
"We have everything it takes for a Celtic lion economy to take off in Scotland," he said at the time, adding: "What we require is vision and leadership to enable us to make it happen.
"Ireland has shown what is possible and there is no reason why we could not match their tiger with our lion."