Scottish teacher numbers fall by almost 800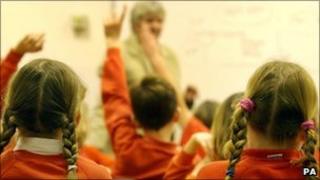 The number of full-time teachers in Scotland has fallen by almost 800 since last year, new figures have revealed.
There were a total of 52,984 teachers in 2009, which has now dropped to 52,188, according to government-released statistics.
The figures also said the pupil-teacher ratio in schools increased from 13.2 to 13.3 in 2010.
Opposition parties and the EIS teaching union accused the government of failing on education.
Education Secretary Mike Russell said almost 22% of P1, P2 and P3 classes were now capped at 18, or had two teachers.
Elsewhere, the figures showed the number of pupils suspended or permanently excluded from school for bad behaviour fell by 11%.
And absence, both authorised and unauthorised, went up fractionally from 6.6% last year to 6.7%.
Labour education spokesman Des McNulty branded the SNP's class size policy a "shambolic failure", adding: "The SNP have reneged on every one of their education commitments.
"Teacher numbers are plummeting, their PE and school meals pledges have been shelved and now the class size pledge lies in tatters."
The Lib Dems' Margaret Smith, said: "Teachers, parents and pupils are bitterly disappointed at the mess the SNP has made of Scottish education."
Liz Smith, the Tory education spokeswoman, said the SNP made a manifesto commitment of 18 pupils or less in P1-3 classes, but was eventually watered down to a 20% "average" figure.
"Not only is it very clear that some local authorities have made virtually no progress but there is a wide variation within different local authorities," she said.
But Mr Russell said the figures showed an eight-year downward trend in teachers numbers had slowed "significantly".
"These figures show we have turned the corner, that things are getting better and that our policies are having a real and positive impact," he said.
"But, of course, statistics only tell part of the story and it is what I see happening in schools day in, day out, which really tells me that while there is still much to do we are definitely moving in the right direction."
Isabel Hutton, of council group Cosla, said: "I welcome the fact that we have delivered on our agreement with Scottish government and that across Scotland over 20% of children are educated in classes of 18 or under.
"This success is down to the investment and support that local government provides to education, even when times are tough.
"This is good news, but we must remember that positive progress in reducing class sizes is not a panacea to the challenges we face in Scottish education."