New sex offence laws now in force in Scotland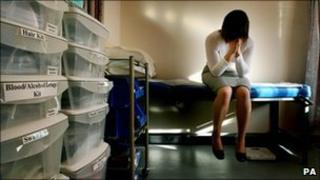 New laws on sexual offences, which include for the first time a legal definition of consent, have come into force in Scotland.
The Sexual Offences (Scotland) Act defines consent and allows one party to withdraw it at any stage, whether they initially gave consent or not.
The act also gives a legal recognition of male rape.
Rape Crisis Scotland welcomed the changes and said more had to be done to improve rape conviction rates.
Crown Office figures indicated that 35% of rape cases brought to court resulted in a rape conviction in 2007-08.
But statistics obtained by Rape Crisis Scotland also showed that of the 821 cases recorded by police in 2008-09, just 25 resulted in a conviction in the courts, with only 83 suspects facing court proceedings.
These figures include cases where more than one complaint was made, or where a charge of rape was reduced to a more minor offence.
The police chiefs' organisation Acpos said the implementation of the new laws would increase the number of reported rapes.
A raft of new crimes have now been enacted by the act, including coercing others to engage in any form of sexual activity without their consent, forcing someone to view pornography, to have sex while someone else is watching or sending sexually explicit e-mails or texts.
The law also includes "protective measures" to safeguard those with limited or no capacity to consent due to their young age or a mental disorder.
And sexual exposure - commonly known as "flashing" - is also now legally prohibited by statute.
The new powers will also clamp down on "sex tourism" by enabling the prosecution of any Scot who procures sex with a minor abroad, and also allows law enforcement agencies to pursue Scots who commit a sex crime - as defined under Scots law - on anyone under 18 anywhere in the world, regardless of the law in that country.
Justice Secretary Kenny MacAskill said: "Sexual offences are among the most appalling imaginable, particularly when the victims are among the more vulnerable members of our communities.
"Until now, sexual offences law has been a complex mix of common law and statute. This act therefore improves public safety and helps the victims of sexual crimes by bringing clarity and increased certainty to prosecutions."
Assistant Chief Constable Iain Livingstone, from the Association of Chief Police Officers in Scotland, said: "Widening the definition of rape to be non-gender specific and include activity previously reported as other types of sexual crime is welcomed.
"However, with this should come acknowledgement that a broader definition will result in an increase in police recorded figures for rape."
Sandy Brindley, national co-ordinator for Rape Crisis Scotland, has welcomed the changes, particularly clarification of what is meant by consensual sex.
"Another really important area the law looks at in terms of consent is whether someone is too drunk to consent to sex," she said.
"I think this is where the law has a really important educational function."