Deadly P lateralis tree disease found at Loch Lomond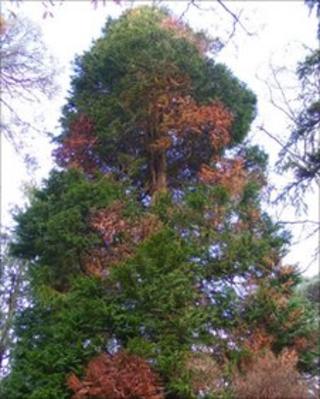 A deadly tree disease never seen in Britain before has been detected on the shores of Loch Lomond.
Phytophthora lateralis is a fungus-like pathogen which kills trees' roots.
It is feared the disease could be spreading through cypress trees at Balloch Castle Country Park.
The Forestry Commission said the rare but fatal disease had already killed at least one cypress tree in the park, while 27 dead or dying yew trees are also being tested for the infection.
Until recently, the disease was largely confined to Canada and the United States but outbreaks have been recorded in France and the Netherlands.
Biosecurity measures, including disinfectant mats, are being put in place at the park and gardeners have been advised to contact the Forestry Commission if they are concerned about dead or dying trees.
The park is a popular visitor attraction about 32 kilometres (20 miles) north of Glasgow, but the pathogen is harmless to humans and animals.
Spores that spread the disease can be transmitted in contaminated soil, as well as on pruning equipment and other tools.
Dr Bob McIntosh, director of Forestry Commission Scotland, said: "This is a very worrying development.
"P lateralis is a particularly virulent pathogen, and very few trees survive an attack.
"Although its main victim is Lawson's cypress, it can kill other species, particularly Pacific yew (Taxus brevifolia), a close relative of our native 'English' yew (Taxus baccata).
"It could also be serious for the ornamental plant industry if it became established in Britain, because Lawson's cypress - and its various colourful cultivated varieties - are some of the most important conifers in our ornamental plant trade."
Dying foliage
Dr McIntosh said scientists at the Forest Research agency were researching the outbreak as quickly as possible, although the current poor weather was hampering their investigations.
West Dunbartonshire Council has already begun felling the dead and dying trees to minimise the risk of spreading the disease.
Anyone living in the area who has Lawson's cypress on their property is asked to check them carefully for signs of dying foliage and to report suspicious symptoms to the Forestry Commission.