Home reports fail to cut multiple surveys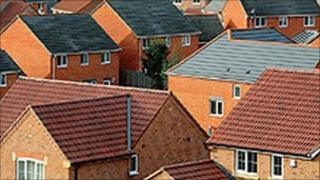 A BBC Scotland investigation has found evidence that home reports have failed to curb the need for multiple surveys on single properties.
The reports were introduced in 2008 and include a single survey detailing the condition, value and an energy report for a property for sale.
However, many mortgage providers insist on an additional survey if a home report is more than three months old.
The Scottish government said a third of buyers paid for additional surveys.
That compares with the 10-20% of house purchases requiring multiple surveys, cited by the the Royal Institute of Chartered Surveyors prior to home reports being introduced.
Every house put on the market in Scotland must have a home report - paid for by the seller.
It was hoped the change would replace the practice of multiple bidders who were vying for a property having to commission their own survey.
David Borrowman, a property solicitor in Scotland, told the BBC's Call Kaye radio programme: "Well, there's one group which benefits quite substantially, and that's surveyors. I've been privately told by one surveyor that home reports saved him."
Despite the criticism, Graham Hartley of the Royal Institute of Chartered Surveyors said the policy had impacted upon the market and that it was unfair to focus on multiple surveys.
He added: "Well, I think we're picking on one aspect there, the multiple survey, so at least people are bidding on the basis of they know the value as opposed to the old system where people were bidding where they clearly had no chance of winning it."
The Scottish government has said it is considering whether more can be done to persuade lenders to accept home reports.
'Additional reports'
Responding to the points which will be raised by the investigation, Housing and Communities Minister Alex Neil said: "The BBC figures are calculated from guesswork, not hard facts.
"The interim review of the home report found that the incidence of multiple surveys occurs infrequently.
"In the vast majority of cases where additional reports are commissioned, it is lenders that are insisting on buyers doing this.
"This is to do with lenders' practices, and not the home report.
"We would strongly encourage lenders to ensure that the requirement for additional reports continues to remain the exception."
Call Kaye with The Investigation: Home Reports, is aired at 0850 GMT BBC Radio Scotland on Tuesday, 30 November.