More winter weather problems in north east of Scotland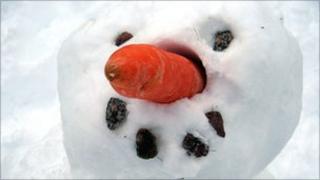 Heavy snow and ice in the north east of Scotland have caused severe problems on roads and for schools for a sixth consecutive day.
Drivers travelling south from Aberdeen were advised to take the A92 rather than the main A90, and trains between Perth and Aberdeen were also disrupted.
Only four schools in Aberdeenshire were open, with more than 170 closed or partially closed.
Moray Council later decided all of its schools would be closed on Tuesday.
Aberdeenshire Council said it was having to ration salt supplies after an intense effort to keep roads clear of snow left it with dwindling provisions.
The authority said it had already used 12,000 tonnes of salt to combat the wintry weather, compared with 3,500 tonnes at the same point last year.
The council said it expected fresh supplies to arrive later this week.
All schools on Orkney and Shetland were forced to shut.
Aberdeen's schools are closed on Monday and Tuesday for in-service days, which eased rush-hour traffic congestion in the city.
Several schools were also closed in Moray.
Moray Council's library staff who travel from outlying areas have been advised to stay at home until it is safe to travel, which could mean some libraries closing.
Other council staff who travel to work from badly affected areas were sent home. Others who cannot travel on Tuesday will work from home until it is safe to travel.
Grampian Police said some roads were closed and many more were only passable with care.
Stagecoach said local bus services in Aberdeenshire and Moray were being disrupted as a result of the severe weather.
Meanwhile, high winds forced the Aberdeen Sports Village to close after the centre's walls were damaged.
Winds of up to 40mph pummelled the sports facility, ripping off some of the panels. Repairs are under way.
Scottish Transport Minister Stewart Stevenson said: "We've seen an inch of snow falling in many parts of Scotland every hour.
"The local authorities and our own trunk road operators have been out doing their very best, but abandoned vehicles will undoubtedly cause problems.
"Much of the public transport network, while there are difficulties, is continuing to operate.
"So I think we're doing fairly well and, of course, on salt, we now have some two months of salt at intensive use levels waiting in depots across Scotland for the worst of our weather."