New Holyrood Calman powers put on hold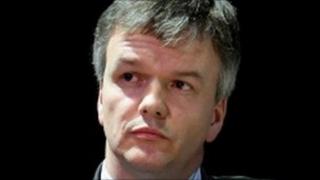 The UK government has pledged to honour a move on giving more financial control to Holyrood - despite withdrawing plans to devolve some tax powers.
Scottish secretary Michael Moore is poised to announce a bill to give Scotland powers to raise half its income tax.
The move was a key finding of the Calman Commission review of devolution.
But Mr Moore told BBC Scotland that plans to devolve the aggregates levy and aviation tax were on hold.
He said the first tax was currently subject to a dispute in the European courts, while the latter was under review by the UK government.
The Scottish secretary told BBC Scotland's Politics Show those powers would be devolved at the appropriate time, adding: "Calman will be honoured in spirit and in letter."
He will publish a new Scotland Bill on Tuesday - St Andrew's Day - to outline the proposed new Scottish income tax.
Mr Moore also defended the timescale for implementation of the new power, currently set at 2015, saying: "It's something we have to do with care and take time to do it."
"I am very pleased at the progress that we've made over the past six months in delivering on the commission on Scottish devolution' s package, which set out some very ambitious changes for Scotland, which will empower the parliament in a wholly new way and address one of the fundamental problems of the existing devolution arrangements, namely the accountability of the Scottish parliament for raising its own finance," he said.
Under the Calman proposals, the UK Treasury would deduct 10p from standard and upper rates of income tax in Scotland and give MSPs the power to decide how to raise cash.
The new powers would be combined with a cut in the block grant, currently about £30bn, which Scotland gets from the UK government.
But critics of the move, including the SNP, say the new powers are meaningless and want full fiscal autonomy for Scotland.
First Minister Alex Salmond has also argued the tax proposals have been overtaken by the UK government's plan to pay for a rise in income tax allowance thresholds by increasing personal National Insurance contributions, under which money would go straight to the Treasury.
The Scotland Bill is also likely to allow the Scottish Parliament to take control of national speed limits, drink-driving laws and airguns legislation.
Stamp duty and landfill tax is also likely to be devolved.
Scotland already has the ability to vary income tax by 3p in the pound, although the powers have never been used.