Chaos as heavy snow hits Scotland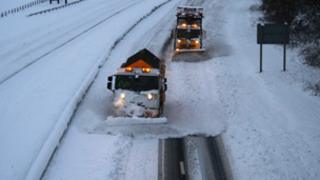 Scotland has been hit by more heavy snow and freezing temperatures, bringing chaos to roads and transport links across the country.
White-out conditions affected several main roads, including the A9 between Perth and Dunblane, while many bus and rail services were disrupted.
Flights were suspended for a period at Edinburgh and Glasgow airports.
The Met office issued a severe weather warning for areas across Scotland with snowfalls of five to 15cm forecast.
Police advised drivers not to travel unless absolutely necessary.
National Express said its last bus services from Dundee city centre left at 1700 GMT and there would be no more services until the morning.
Long tailbacks were caused on various roads due to motorists getting stuck and jack-knifed lorries.
The M8 was down to one lane in both directions.
Drivers on the A82 up the west coast of Loch Lomond were at standstill, with 200 vehicles stranded at one point. The road was later closed near Arden. The A83 was also closed.
The A90 between Forfar and Dundee was closed in both directions.
Central Scotland Police said they were experiencing "significant problems" with many major routes, including the M80, seriously affected.
The A9 was closed between Dunblane and Perth after several vehicles jack-knifed and bus services were withdrawn from Stirling bus station.
Tayside Police warned drivers not to travel. A spokesman said 20cm (8in) of snow was expected in the area overnight into Monday.
Bear Scotland had five gritters on the A9 in an attempt to keep it open.
It added that other roads were passable with care but urged people not to venture out on the roads unless absolutely necessary.
Justice Secretary Kenny MacAskill said councils had stocked up on salt and grit, with enough in store to handle "two months of heavy duty" needs.
For the latest traffic updates visit www.trafficscotland.org.
A snowline for parents and carers in Perth and Kinross will open at 0700 GMT on Monday to deal with information about school closures (0845 3011100).
All Midlothian schools will be closed to pupils on Monday, and the situation will be reassessed later to see whether they can be reopened on Tuesday.
Information on school closures elsewhere in Scotland is available here: At a glance: School closures in Scotland.
ScotRail said many rail services were affected by the weather. Services to and from Glasgow Central were disrupted, and many other routes were experiencing short notice delays and cancellations.
A spokeswoman said due to the road conditions, rail replacement buses were unlikely to be available.
She added: "We are advising people not to travel today or at least to consider postponing their journey if not strictly necessary."
A spokesman for Edinburgh Airport urged passengers to contact their airline before travelling to the airport after its runway was closed for much of the afternoon. It reopened at about 1745 GMT.
Glasgow Airport reopened its runway shortly after 1500 GMT after having to close for a few hours.
At Aberdeen Airport, several flights were cancelled. The runway had to be closed for an hour in the morning for snow clearing, which resulted in flight delays.
Prestwick was operating as normal but had handled some diversions.
Calmac said it was not aware of any disruptions to ferry services.
Forth HMS Coastguard managed to keep operations running after staff, based on the Fife peninsula at Anstruther, dug their way into work.
Two officers turning up for duty at 0700 GMT were faced with snow drifts of 30cm (12in) deep which stood between them and the office.
They dug out the route along a private road with the help of two officers coming off duty.
Cancelled events
Sports fixtures were also hit by the freezing conditions, which forced the postponement of the matches between Dundee United and Rangers at Tannadice and Motherwell against Hearts at Fir Park.
A ceilidh event in Glasgow's George Square was cancelled, as was a nativity carol concert in Edinburgh's St Andrew Square.
The Lecht snow centre in the Cairngorms had to close due to snow drifts.
Tayside Police said its non-emergency telephone lines were out of order for a short time, possibly due to a lightning strike on the telephone network in the Dundee area.
Loch Glascarnoch, between Ullapool and Inverness, saw temperatures fall to -15C (4F) on Saturday night, a record low for November in Scotland.
The Met Office said snow showers were heavy and prolonged at times throughout the day giving falls of five (2in) to 15cm (6in), with up to 25cm (10in) on higher ground.
Little was expect to change into the night, with further snow showers for the east and some feeding right through to Strathclyde.
More sheltered spots, such as the west highlands, were forecast to have a severe frost with temperatures as low as -15C again.