Third of Scots 'living in fuel poverty'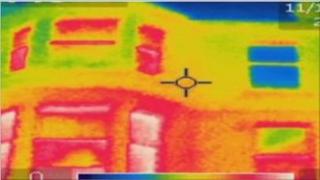 A third of Scots households are unable to keep their homes warm, according to Scottish government figures.
In 2009, about 770,000 homes were said to be in fuel poverty, spending over 10% of income on heating, compared with 618,000 in 2008 and 293,000 in 2002.
Scottish Housing Minister Alex Neil said rising energy costs were to blame.
Shelter Scotland said government targets to wipe out the problem "as far as is reasonably practicable" in the next six years would be missed.
A household is considered to be in fuel poverty if it would be required to spend more than 10% of its income to adequately heat its home, and in extreme fuel poverty if it would have to spend more than 20%.
The figures from the Scottish House Condition Survey also indicated that the number of households in "extreme fuel poverty" had risen from 3% in 2002 to 10% in 2009.
Consumer Focus Scotland said the "shocking" figures demanded "concentrated action" by government at all levels.
The cost of fuel increased by 19.5% between July 2008 and July last year, according to the government.
Mr Neil said Scotland was leading the way in helping households reduce the amount of fuel they need to buy, with the figures showing that 140,000 more households had become more energy efficient since 2008.
He added: "However, it is bitterly cold and we know many hard-pressed households are struggling with fuel bills.
"What is extremely worrying, is that soaring energy prices have led to an increase in the number of people spending more than 10% of their income on fuel bills."
'Wealthy country'
Graeme Brown, director of Shelter Scotland, said: "For one of the world's more wealthy countries like Scotland to now have more than one third of its households, 770,000, living in fuel poverty or extreme fuel poverty brings shame on our nation.
"If this trend continues, a rise of 8% on last year's figure, the Scottish government is never going to hit its target of eradicating fuel poverty and certainly has no hope of meeting the 2016 pledge."
He urged the government to prioritise the building of new energy-efficient housing and raise the standard of existing housing stock.
Consumer Focus Scotland deputy director Trisha McAuley said the figures confirmed worst fears about the scale of the problem in Scotland.
She said: "While the Scottish government has made significant progress in general with its energy efficiency programmes it now needs to make a step change in its efforts and its investment, targeted towards the hardest to heat houses and consumers off the gas grid."
Elizabeth Leighton, of environmental group WWF Scotland, said: "While we welcome the rise in more energy-efficient homes, the pace and scale of change is simply too slow to meet our fuel poverty and climate change targets."