Dumfries hospital patient left lying in 'lake of urine'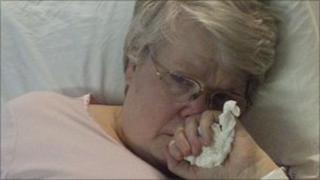 The family of a Dumfriesshire woman say she has been let down by the NHS which has failed to provide adequate care.
They said Elizabeth Butterfield, 60, was left lying in urine at Dumfries and Galloway Royal Infirmary, following a severe back injury.
She was referred to the hospital two weeks ago with the injury which caused a loss of bladder and bowel control.
NHS Dumfries and Galloway said it was unable to comment on the case of an individual patient.
The injuries caused Mrs Butterfield to lose control of her bladder and bowels, symptoms of a severe spinal injury.
However, medical staff at the hospital, who have no specialist expertise in spinal injuries, sent her home with a pessary.
"We were discharged within about two hours by a registrar who did the most basic examination imaginable," said her son Chris Butterfield.
"He gave mum a suppository and said, 'that'll do, my father's got sciatica. That's what you've got, you can go home.'."
One independent expert in spinal surgery, who spoke to BBC Scotland, said Mrs Butterfield should have been immediately admitted to a centre of expertise for spinal injuries.
Her GP expressed concern that scans had not been performed and requested that she be admitted to Dumfries's hospital a second time.
However, attempts at an MRI scan were abandoned by the hospital because Mrs Butterfield could not fit inside the small scanner due to an arthritic knee.
Her family have since found out she could have been scanned in a larger scanner in Edinburgh.
Mrs Butterfield's son refused the hospital's attempts to discharge her a second time because she was incontinent and in severe pain.
However, upon visiting his mother in Ward 16 he said he found her lying in a pool of urine in her hospital bed.
"There was this huge lake of urine," he said.
"It wasn't just a damp patch, it was a lake of urine."
He was assured by the hospital that it wouldn't happen again, however a few days later he had a phone call from his mother, who said staff were refusing to clean her urine-soaked feet.
He recorded the call on a dictaphone.
His mother can be heard saying: "Eventually I rung the bell once and they came to it, turned it off, put it out of my reach and walked away again because they were busy elsewhere.
"So I've no way of summoning them again ... My feet are in urine.
"They've been very careful to wipe around my feet but didn't shift my feet..."
NHS Dumfries and Galloway said it was unable to comment on an individual patient.
However, in a statement it added: "The individuals involved have expressed to the nurse manager their satisfaction with the nursing care being provided, and have acknowledged that appropriate actions have been taken to meet the patient's needs.
"We are confident that our staff continue to provide the standards of care we would wish and expect them to provide."
The Butterfields denied that they were happy with her care and have called for her to be transferred to a specialist centre for spinal injuries.