Tory party 'needs major overhaul' says Sanderson review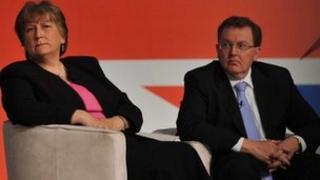 The Scottish Conservative Party needs a radical leadership overhaul as part of a battle plan to improve its electoral prospects, a review has recommended.
Despite the Tories winning the last UK election, the party failed to improve on the one seat it held in Scotland.
A new report by the Conservative peer Lord Sanderson said the Scottish party needed a leader to take overall responsibility for performance.
He also said the party needed a stronger vision and identity.
The Scottish Conservatives, which are a self-governing part of the UK party, have suffered declining fortunes since the party's 1997 UK election defeat.
Their sole Scottish MP is Scotland Office minister David Mundell, while the party - which has 17 MSPs, has failed to increase its representation in the Scottish Parliament over the last 10 years.
With membership falling from 40,000 in 1992 to 10,000 today, the problems have led to claims the Scottish Conservatives have become a "toxic brand".
The central recommendation of the Sanderson review is the election of a distinct leader, with full responsibility for the Scottish party, which is currently led by MSP Annabel Goldie.
It recommended future leaders should be elected by all party members - and would not have to be an MSP to be eligible.
And the review also concluded there should be a leadership election straight after next May's Scottish Parliament election, with party leaders being subject to re-election every four years.
Along with those changes, "significant weaknesses" in the party's decision-making structure need to be tackled and more full-time staff taken on, including a chief policy adviser.
Delivering his report, Lord Sanderson said: "We were all very disappointed by this year's general election result in Scotland and have analysed that result in both a Scottish and UK context to identify how we can rebuild a significant level of support for our party.
"The consistent themes in the many submissions we received were of a need for clarity of leadership, a distinctive Scottish identity, a welcoming and broader party, increased decentralisation of the party structure and the empowerment of the members.
"The desire for change across the party provides a powerful mandate for the Scottish Conservatives and a transformational opportunity. It allows the party to aim high, build on its strengths and be bold in delivering the changes required."
Elsewhere, the report said that, while there was no requirement to change the party name, it must develop a clear, distinct vision for Scotland.
The review pointed to polling indicating most Scots do not understand what the Scottish Conservatives stand for and think the party is anti-Scottish - a perception that goes back to the days of Thatcher.
It raised concern there was no structure for including a wide range of views when it came to making policy and selecting candidates and that ordinary members felt excluded.
In particular, concern was raised about procedures for the ranking of Holyrood list candidates.
The Sanderson review also said party fundraisers must be boosted beyond the current "generous but small" base which was "neither a robust nor a sustainable arrangement".
Membership of the review panel included former Scottish secretary Lord Forsyth, who said earlier this year the party had become "marginal".
Even though the review's remit was not policy itself, the conclusions called for a full debate on fiscal powers for Scotland within the party - which previously campaigned against devolution.
Broad principles
But the party, which has had success in getting policies implemented during Scottish budget negotiations, has now been urged to recognise the Scottish Parliament as being at the "centre of democratic discussion and debate in Scottish politics".
Ms Goldie - who would have to re-apply for her job under the review recommendations - said: "This report is now in the hands of my party and I do not, at this stage, intend to give a running commentary of its recommendations.
"However, I can confirm my agreement with its broad principles which chart a way forward building upon our strengths, being honest about our difficulties, and optimistic about our future.
"The party will now start the process of detailed analysis and consultation, and in the meantime I will put all my energies into the Holyrood elections."
Scottish Tory chairman, Andrew Fulton, added: "We will consider all the recommendations thoroughly and according to party procedures and constitution.
"Where operational changes can be made they will be made, and I would hope sooner than later."
Labour MSP Elaine Murray dismissed the recommendation as "death by a thousand committees".
"This is a damning indictment of the Tory party in Scotland and shows they are more interested in tinkering with structures rather than understanding why people in Scotland are so distrustful of them," she said.