Brothers murdered man with sword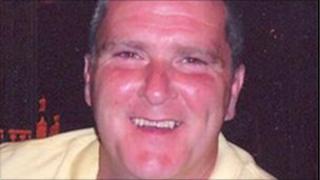 Two brothers have been convicted of murdering a man in front of his sons.
Andrew Curran, 41, died from sword wounds to his neck in Maryhill Park, Glasgow, on 16 April.
A jury at the High Court in Glasgow found Angus Malavin, 25, guilty of murdering Mr Curran by stabbing him in the neck and in the stomach.
Zac Malavin, 28, was convicted of murder by acting with his brother. A third man, Steven Souley, was found guilty of culpable homicide.
All three were also convicted of assaulting Mr Curran's friend James McGregor, 50, by striking him on the body with a sword and shooting him on the body with a crossbow to his severe injury and permanent disfigurement.
The Malavin brothers are facing life imprisonment and will have the punishment part of their sentence determined by the judge next year .
Earlier Mr Curran's son, also Andrew, told how he saw his father clutch his neck.
He said: "He was still walking, but he was holding his neck. There was blood coming out. He was staggering. I was holding him up."
Both sides
The court heard an ambulance was called and he went with his father to hospital.
His brother Josh was also in the park when Mr Curran was murdered.
The court heard that trouble began when Andrew Curran junior's friend Paul Brown urinated on a bottle of alcohol belonging to Zac Malavin.
After this incident Zac Malavin stabbed Mr Brown and Andrew Curran junior, although the matter was not reported to the police, and tried to run down Mr Curran jnr with a car.
Mr Curran senior become involved when he tried to sort out the problem by telephoning the Malavins.
He spoke to Angus Malavin, who said that anyone who went near his brother was getting a bullet in the head.
Both sides agreed to meet in Maryhill Park on the evening of 16 April and the court was told that some were armed.
Mr Curran went there with friends and his sons and the Malavins headed to the park with friends.
Both sides clashed near the running track.
The Malavin brothers and Souley denied killing Mr Curran.
They claimed that they were just defending themselves and the other side were the aggressors.