Prince William and Kate's wedding will be Scots holiday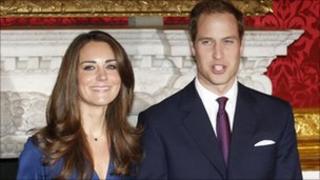 The Scottish government has confirmed that the day of the wedding of Prince William and Kate Middleton will be a public holiday in Scotland.
It was announced earlier that the pair will marry on Friday 29 April at Westminster Abbey.
The extra holiday will fall in the same week as Easter Monday, giving millions of workers across the UK a three-day week.
It also falls six days before the Scottish Parliament elections on 5 May.
As 28 working days are needed between dissolving parliament and polling day, parliament could be dissolved a day earlier than expected.
Elections to the Welsh and Northern Ireland Assemblies, some English council polls and the UK-wide referendum on voting reform are due to take place the same day.
But Prime Minister David Cameron dismissed concerns that the public holiday would come too close to polling day.
"The timing of the wedding is entirely a matter for the Royal Family. People are perfectly capable of seeing the difference... a day of celebration and a referendum and local election campaign," he said.
The Scottish government, which has devolved power on national holidays, made its decision after a meeting of the Cabinet on Tuesday evening.
A spokesman for First Minister Alex Salmond said: "Cabinet has agreed 29 April will be a public holiday in Scotland."
He said the day would be an additional public holiday "so all of Scotland has the opportunity to enjoy the celebrations".
Earlier, Mr Salmond said: "I extend my warmest congratulations to Prince William and Miss Middleton as they look forward to a wonderful wedding day and the beginning of a long and very happy marriage."
Anti-monarchy group Republic said creating a bank holiday for something "most people are not interested in" was "absurd" and that an extra day off should only be for something everyone could relate to.