'Support' for MSP Margo MacDonald's right-to-die bill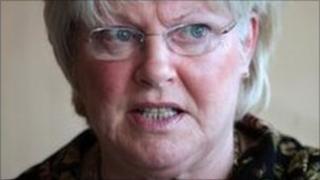 The politician behind plans to give terminally ill people the right choose when to die has urged MSPs to recognise strong public support for the move.
Margo MacDonald's plea came ahead of a Scottish Parliament vote on the End of Life Assistance Bill on 1 December.
The independent MSP, who has Parkinson's disease, published the results of a poll which indicated most Scots adults supported the proposals.
MSPs have been allowed a free vote on the bill, rather than on party lines.
It is not illegal to attempt suicide in Scotland but helping someone take their own life could lead to prosecution.
According to the poll, conducted by Angus Reid, 77% of adult Scots back the legislation, while 12% opposed it and the remainder were unsure.
The survey, carried out from 14-16 April, asked 1,001 people: "The Scottish Parliament is considering the End of Life Assistance (Scotland) Bill, which would allow people with intolerable terminal illnesses to be assisted if they wish to end their own life. Do you agree this option should be available to people in Scotland?"
The "Care not Killing" alliance of 50 groups, including faith-based organisations, has campaigned against the bill by promoting better palliative care.
Ahead of this week's vote, Ms MacDonald said: "MSPs should be influenced by the strength of public support as much as by the church campaign."
Ms MacDonald's bill would allow people whose lives become intolerable through a progressive degenerative condition, a trauma or terminal illness to seek a doctor's help in dying.
It also proposes a series of safeguards which would prevent abuse of the legislation.
The fate of the bill at the first vote is uncertain, and the majority of MSPs on a special Holyrood committee set up to scrutinise the legislation said it was "not persuaded that the case had been made to decriminalise the law of homicide as it applies to assisted suicide and voluntary euthanasia".
If the general principles of the bill were to be approved this week, the legislation would still face a further two parliamentary votes before becoming law, during which time it could be amended.
In England, the director of public prosecutions has indicated he was unlikely to take legal action against those who assist the suicide of friends or relatives who have a settled and informed wish to die.
However, no such guidance has been given in Scotland.
The bill vote had been due to take place on Thursday, but has been moved to accommodate a debate on the row over the Scottish variable rate of income tax.