Inspectors to boost unannounced hospital visits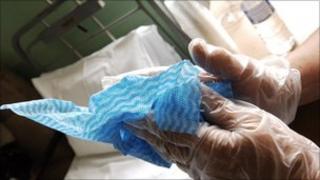 The body charged with cutting infection rates at Scotland's hospitals has said it is to make more unannounced visits to wards.
It comes a week after HEI inspectors found cleanliness issues at Glasgow's Royal Hospital for Sick Children.
Since its creation in 2009, the body has inspected 29 acute hospitals and issued 172 measures to improve standards and 168 recommendations.
However, it has found hospitals were "generally clean and improving".
During a visit to Yorkhill on 12 October, the Healthcare Environment Inspectorate (HEI) uncovered concerns about toy cleaning at the hospital and also found waste bins could be filled to overflowing.
But in its first report, the body said standards of cleanliness in Scotland's hospitals were improving while infection rates were reducing.
It also found that good practice was being passed from one hospital to another.
However, the report said that cleaning of patient equipment needed to be improved and found 12 hospitals where staff precautions to prevent healthcare associated infections (HAI) was poor.
They also found 11 hospitals where cleanliness policies were not up to date and another 12 where infection control teams did not communicate effectively with staff and senior management.
'Performed poorly'
Susan Brimelow, chief inspector of HEI, said: "Overall, we have found most hospitals are generally clean and improving.
"However, there are still important areas for further improvement.
"In particular, we expect to see rapid and sustained improvements in the coming year that focus on improved cleaning of hospital equipment and ensuring that up-to-date policies are available and being followed on wards.
"To support these aims we'll be moving towards more unannounced inspections in the year ahead."
The move towards more snap hospital visits by inspectors was welcomed by the Scotland Patients Association.
Scotland's Health Secretary Nicola Sturgeon said: "Some of the reports have made uncomfortable reading but that was to be expected.
"Where hospitals have performed poorly, the inspectorate has ensured that improvements are put in place quickly.
"In addition, all the report's recommendations are already being addressed as part of our HAI Taskforce's programme."