Council budget deal 'exceptional', says Alex Salmond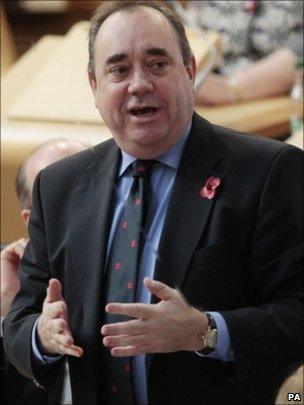 First Minister Alex Salmond has insisted Scotland's councils have been offered an "exceptional" deal to help shield them from spending cuts.
The government's budget for the year ahead will limit local authority reductions to 2.6%, if they agree to implement key SNP policies.
Labour has accused ministers of trying to bully the 32 councils and remove their independence.
But Mr Salmond told BBC Scotland the alternative was a cut of 6.4%.
Ahead of Wednesday's budget announcement, Finance Secretary John Swinney struck the agreement with local authority body Cosla, although Labour refused to sign up.
The deal, which would still have to be agreed to by the individual councils, would require them to continue the tax freeze for a fourth year and maintain police officer numbers, among other commitments.
But Gordon Matheson, leader of Glasgow City Council, has strongly criticised the offer.
Mr Salmond told BBC Scotland's Politics Show: "We've proposed to local government, with great acceptance by all of the other political parties in Cosla, that Cosla, because it is in charge of local government services, can have a special deal.
"A cut of 2.6% which is not easy, but it's a lot better than 6.5% if we can agree on certain key priorities.
The first minister went on: "These priorities are the council tax freeze, the employment guarantee for new post-probationary teachers and sustaining the 1,000 additional police on the streets of Scotland.
"Everybody else thinks, under the circumstances, that's an exceptional deal."
But Labour finance spokesman Andy Kerr said councils were being forced to surrender their powers, adding: "The deal being offered by the Scottish government is, 'we will cut your budget massively if you don't agree with what we want to do'."
The Tories' Derek Brownlee added: "The position of the deal which Cosla signified this week is that councils have a pretty difficult job to explain why they wouldn't sign up to the deal."
Jeremy Purvis, of the Liberal Democrats, said the council tax freeze could be afforded, but warned: "If other tough action is taken in the budget - and that is cutting down on waste, ending national quangos, reforming Scottish water."
Scottish ministers say UK government deficit-reduction spending cuts mean more than £1bn coming off their spending plans, which MSPs will vote on at the start of 2011.
Related Internet Links
The BBC is not responsible for the content of external sites.