Friend speaks of fears for trapped miner Peter Rodger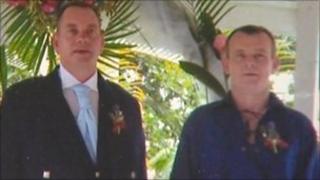 A friend of one of the Scottish mine workers trapped following an explosion in a New Zealand coal pit has spoken of his fears for him.
Gary Fraser, from Perth, said 40-year-old Peter Rodger was a "strong character" who had never done an easy job in his life.
Mr Rodger and Malcolm Campbell, 25, from St Andrews, were trapped with 26 others at the Pike River mine.
Rescuers have so far been unable to make contact with the mining team.
Speaking to BBC Scotland, Mr Fraser said he was now playing a "waiting game".
Second time
He said: "We phoned his girlfriend in New Zealand and she confirmed that Peter was one of the miners trapped down the mine.
"It's very upsetting, very sad.
"He's a very strong character, has always been. He takes things pretty good."
Mr Rodger was Mr Fraser's best man when he married his wife Laura in Jamaica a few months ago.
The Scot moved to New Zealand two years ago and began working at the Pike River mine, in South Island, in April.
Mr Fraser said it was the second time his friend had been trapped in recent months.
He said: "He was trapped for eight hours. He's never done an easy job in his life. He used to work off shore on oil rigs off the coast of Africa."
Mrs Fraser said she had spoken with Mr Rodger's partner following news of the explosion.
She said: "She's doing remarkably well. I was speaking to her on the phone just a few hours ago.
"She's doing really well, a lot better than I would be."