Scottish Power increases gas and electricity prices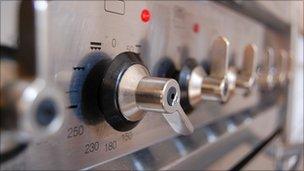 Scottish Power has announced increases in its standard domestic gas and electricity prices from next week.
The company said electricity bills will rise by an average of 8.9% while prices for gas customers will increase by an average of 2%, affecting about 2.5m people across Britain.
It claimed the increase was as a result of a 26% increase in the wholesale energy price since the spring.
British Gas and Scottish and Southern Energy have already announced rises.
Last month Scottish and Southern Energy said it would put up its domestic gas tariffs by 9.4% at the start of December.
British Gas customers also face a 7% rise in gas and electricity bills this winter.
EDF said it was keeping prices on hold.
E-On and nPower have yet to make price change announcements.
Scottish Power, which has its headquarters in Glasgow, is owned by Spanish energy firm Iberdrola.
It said the rise was its first in more than two years and that about 600,000 (20%) of the households it supplied would be unaffected because they were on fixed, or capped deals.
The company said it would freeze prices for another 60,000 customers on its Fresh Start package until the end of March.
A total of 1.6m people in England will be affected by the rises, as will 750,000 in Scotland and 150,000 customers in Wales.
Raymond Jack, Scottish Power's director of energy retail, said: "We understand that times are difficult for many people, and we have done all that we can to keep energy prices as low as possible for as long as possible.
"Over the last two years our energy prices to customers have decreased and we are committed to being fair to customers and offering value for money over the longer-term."
He said the rise was not only a result of wholesale energy costs.
"The rising burden of non-energy costs faced by Britain's energy suppliers, including the cost of meeting government environmental and social programs and the cost of distributing electricity on the national grid, has also placed further upward pressure on energy bills," he said.
However, the watchdog Consumer Focus said energy firms should have reduced prices when wholesale costs were lower.
Its Scottish director, Marieke Dwarshuis, said: "This latest round of price rises will further increase the distrust that consumers feel towards energy suppliers.
"Energy firms need to give answers on why customer prices have been cut by less than 10% when wholesale costs have been so low for so long, yet suppliers are quick to hike prices as soon as wholesale costs start to creep up."
Related Internet Links
The BBC is not responsible for the content of external sites.