Gaelic taught pupils catch up on English skills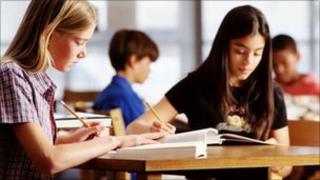 Children who are taught all subjects in Gaelic keep up with their peers in English classes, according to a study.
One of the Edinburgh university study's authors said parents should not be hesitant about Gaelic medium education over concerns it may hold pupils back.
The report said those in classes where only Gaelic was spoken in the first two years, caught up rapidly once English was introduced in primary three.
The research is to be debated at a major conference in Edinburgh.
The research, welcomed by Education Secretary Mike Russell, also indicated that by primary five, children had caught up with their counterparts in English classes and some had overtaken them.
The study suggested that greater proficiency in English reading was still evident in primary seven.
'No diminishment'
And results in maths and science were broadly equal across the board, the study suggested.
The researchers said the strong results could not be explained away by the home background of children in Gaelic units and schools.
The team sought out a sample of children from similar backgrounds in English and Gaelic classes.
Professor Lindsay Paterson, a member of the team who carried out the study, Gaelic Medium Education in Scotland, said: "This indicates there is absolutely no risk, no harm, no diminishment of attainment at all in putting your children into Gaelic medium education.
"The attainment is exactly the same as in English education.
"In fact, there may even be some positive benefits as far as English reading is concerned.
"And in addition, children acquire the capacity to speak and understand Gaelic."
Asked why many children are ending up ahead in English, he said: "There is good international research in other linguistic contexts to show that learning bilingually stimulates children's brains, seems to stimulate their general development, their capacity to learn right across the curriculum.
"It may be that this is what we are seeing in Scotland."
Speaking ahead of the Holyrood conference in Edinburgh, Mike Russell said he hoped the report would encourage more families to opt for Gaelic education.
He said that many parents seemed to be unaware that it existed, or assumed it was only open to children from homes in which Gaelic was spoken.
'Scottish culture'
Researchers found that Gaelic attracted parents who were keen to connect the children with part of Scotland's heritage and those who were keen on stimulating a child's ability to learn other subjects, including other languages.
Numbers are modest with about 2,000 pupils in bilingual primary classes - less than 1% of young Scots.
In Ireland it is 7% and in Wales 21%.
Commenting, Mr Russell said: "Compared to Ireland and Wales, it is a low number but we have increased the number and I've been very strong in arguing for the creation of a new generation of speakers.
"Gaelic medium education is an important part of the process."
He added: "I am heartened by the growth in Gaelic education in recent years and hope that this trend continues - and certainly this report should give parents reassurance that choosing this path for their children will only benefit their educational journey."
Arthur Cormack, Cathraiche (chair) of the development agency Bòrd na Gàidhlig, said: "We welcome this report, which adds to a growing body of research confirming that Gaelic education is a success for the pupils involved, and for the Gaelic language.
"This report shows that attainment among Gaelic pupils is at least as good as that of their peers educated in English.
"Pupils in Gaelic medium education gain an advantage by being educated in two languages, their attainment is excellent, and they gain access to important aspects of Scottish culture."