Scottish Parliament plans 12% budget cut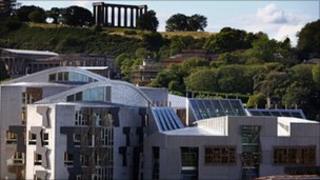 The cost of running the Scottish Parliament is being cut by 12% over four years, under plans to save £9.5m.
Holyrood bosses plan to make savings through a pay freeze for staff and MSPs, lasting until 2013, and cuts to the budgets of the various parliament-funded czars.
The Scottish Parliament's proposed budget for the year ahead has been set at £75.3m.
The spending plans still require the final approval of MSPs.
Details emerged as Holyrood's management group, the Scottish parliamentary corporate body, set out its budget bid to Holyrood's finance committee.
The parliament, which has given a guarantee of no compulsory redundancies in return for the pay freeze, said staff numbers would reduce by about 50 by March 2013 through other means.
Holyrood presiding officer Alex Fergusson, said: "It is vitally important the parliament continues to play its part in responding to the financial pressures facing public sector finances."
He added: "I am able to announce today that the SPCB has offered parliament staff a guarantee of no compulsory redundancies in return for a freeze on salaries until 31 March 2013.
"Pay negotiations have been highly productive and the trade unions are currently balloting their members with a recommendation to accept the offer."