SNP's John Swinney hints at budget pay freeze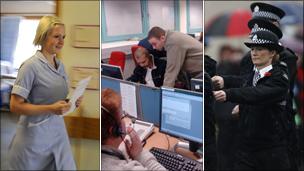 Scottish Finance Secretary John Swinney has hinted at a public sector pay freeze, as he faces a £1bn budget cut.
He said his spending plans for the year ahead, due to be set out on Wednesday, would be the toughest "in the history of devolution".
Mr Swinney, who said pay restraint could save £300m, is also planning to end big public sector bonuses.
SNP ministers say they have £1.3bn less to spend in 2011-12, but the UK government insists the cut is £900m.
The Scottish Tories and Lib Dems supported a pay freeze, but Labour branded the policy "a smokescreen for cuts".
In return for public sector pay restraint - which could see a year-long pay freeze - Mr Swinney said the government could relieve pressure on peoples' household bills.
He said: "Hard choices will need to be made - but it can be easier for all who live here and cohesion maintained within our communities by developing a 'social contract' with the people of Scotland."
Salaries account for more than half of the Scottish government budget.
Mr Swinney blamed the previous UK government for two-thirds of the cuts, adding the Tory-Lib Dem coalition was "cutting too far and too fast" in its efforts to tackle the spending deficit.
Despite the reduction, he said the Scottish government was committed to continuing the council tax freeze and abolishing prescription charges, as part of plans to help hard-pressed families.
Tory finance spokesman Derek Brownlee said: "We would rather people were in work with a pay freeze than out of work with no freeze at all.
"A public sector pay freeze would protect jobs and help secure the recovery. To deal with Labour's legacy of debt we have little choice but to take this action."
The Liberal Democrats' Jeremy Purvis added: "Liberal Democrats support a public sector pay freeze for those earning over £21,000 but we also believe the pay bill for those earning over £80,000 needs to be cut by 10%.
"This will be a real-terms saving on the budget that allows the lowest paid in the public sector a pay increase in the coming year."
But Labour's finance spokesman, Andy Kerr, said: John Swinney's talk of a 'social contract' is nothing more than a smokescreen for cuts that will hit children and pensioners hardest."
Mr Kerr also accused Mr Swinney of creating uncertainty by bringing forward a "one-year budget" ahead of next May's Holyrood election, rather than bringing forward a three-year spending plan.
Related Internet Links
The BBC is not responsible for the content of external sites.