WWII evacuees: Ronnie's escape to Glasgow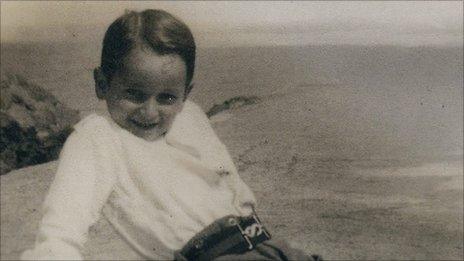 Ronald Gordon Smith, who became known as Ronnie, was just 10 years old when his mother waved him off at Guernsey harbour.
He was one of 1,300 children between the ages of five and 14 who landed in Glasgow after the outbreak of World War II.
A Red Cross letter months later told Stella Smith that her son had been safely placed with a family.
The Herbissons lived in Shotts, Lanarkshire, where Ronnie remained for four years until tragedy stuck in May 1944.
Ronnie, who was described as a popular and dearly loved boy by his foster family, died from a rare form of cancer at the age of 14.
His mother only found out three months after his death, when she was notified by letter, and never got over the news.
After her death, her grandson Barrie Smith discovered a brown leather box which had lain unopened for 70 years.
It contained memories of Ronnie, including pictures and letters - but no clues about his final resting place.
One of the letters mentioned a "large church on a hill" outside Glasgow, with no details about the actual location.
When Ann Morris, a Scottish ex-pat living in Guernsey, heard about the family's quest, she decided to try to track down his grave.
She said: "The way in which Ronnie's mother received the news was deeply tragic, but it was also a sign of the times.
"To be told that your child is dead and it happened three months ago, how could any mother come to terms with the feeling of not being there for her child?"
Ann's travels north of the border solved the mystery which left a hole in the Smith family history.
She located Ronnie's grave and returned to Guernsey with the information the family had craved for so long.
Barrie now plans to make the journey to the cemetery to pay his own tribute to his uncle.
Escape to Glasgow will be broadcast on BBC1 Scotland on Sunday 14 November at 2225 GMT, or you can watch it for one week after that on the BBC iPlayer