Greens 'to make Holyrood gains', party conference hears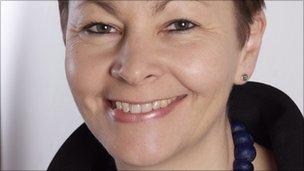 The Greens are poised to make significant gains in the Holyrood elections, the party's first MP said.
Caroline Lucas told the Scottish Green conference the party was on course to return MSPs from all eight regional constituencies to parliament.
The Greens, who currently have two MSPs, have yet to repeat their success in the 2003 polls, when they returned seven parliamentarians.
But Ms Lucas said the Greens were challenging the mainstream parties.
The English and Welsh Green leader told delegates in Edinburgh: "Green Party membership in Scotland is growing and growing, with the party on course to make significant gains in the parliamentary elections next year."
Ms Lucas, MP for Brighton Pavilion, claimed people who had supported the main parties in the past were now considering voting Green.
She said Labour was "still stuck in the New Labour nightmare", while, on the Conservatives, added: "Funding for environmental protection cut, green energy targets weakened, and nothing, not one single thing, in the Queen's Speech to protect our natural world or deal with climate change."
Ms Lucas also said the Greens could attract support from disillusioned Lib Dems and claimed that while First Minister Alex Salmond talked about an "energy revolution", the SNP's economic strategy was "still built on an addiction to oil".
Related Internet Links
The BBC is not responsible for the content of external sites.