The rise and fall of Tommy Sheridan and the left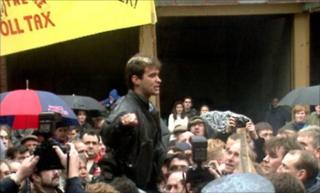 Tommy Sheridan spent his whole political career dividing opinion.
Wherever he has gone, trouble has never been far behind. It may have been turbulent, but it has never been boring.
The story of the rise and fall of Tommy Sheridan is also the story of the rise and fall of Scotland's left-wing movement as a mainstream political force.
Sheridan, with his "firebrand socialist" title, came from a generation of articulate and passionate working-class campaigners.
His trademark tan, topped up by holidays to Cuba where he showed support for the Castro regime, always went hand-in-hand with his seemingly natural charm.
This appeal always frustrated his political opponents - although there are others who argue Sheridan has never been anything other than a charlatan.
Sheridan was exposed to politics at home from an early age.
His mother, Alice, brought up her three children in a house filled with biographies of famous trade unionists.
Sheridan himself was educated at Lourdes Secondary School, in Glasgow, before going on to study at Stirling University.
He joined the Labour Party "to make a difference", but, while Stirling contemporaries like future first minister Jack McConnell stayed in the party's mainstream, by 1989 Sheridan had been expelled from the party for his high-profile stance against the poll tax.
He came to wider public attention in 1992 when he was elected as councillor for Glasgow Pollok while serving a six-month jail term for defying a court order banning him from a warrant sale in Glasgow.
It was a pattern which Sheridan would repeat many times - serving jail terms for refusing to pay the poll tax and a fine after taking part in blockades at Faslane nuclear submarine base.
As the first Scottish Parliament elections approached in 1999, the left-wing movement in Scotland saw an opportunity to begin influencing politics from the inside.
Sheridan was the perfect figurehead for the new Scottish Socialist Party and, after being unveiled as its convener, won a seat as an MSP on the Glasgow list.
The party advocated, as its main policies, proportional representation, abolition of the monarchy and an end to the Union through the creation of an independent, Scottish republic.
In the first parliament, Sheridan was dubbed one of the "three amigos", along with Green MSP Robin Harper and independent Dennis Canavan, after they resisted attempts to move them to the back of the Holyrood chamber - even threatening a sit-in.
He joked at the time: "We might be 'The Good, The Bad and The Ugly' but I wouldn't like to say which is which."
Staying true to his principles, Sheridan used his new status to see through legislation to abolish the poindings and warrant sales, used to seize the assets of people in debt.
But his moment was soured when MSPs agreed to delay its implementation.
In effect, the new law was made redundant by a subsequent government bill to introduce a new system of debt collection - warrant sales by another name, argued Sheridan.
Despite the setback, the 2003 Holyrood election brought success for the Scottish Socialists, when the party boosted its tally of MSPs from one to six.
The SSP had grown to be the fifth biggest party in Scotland and fought for free school meals and an end to prescription charges - both of which would later be brought in by the SNP government.
The party had also campaigned hard against Home Office dawn raids to remove failed asylum seekers, described at the time by Scottish Labour minister Malcolm Chisholm, as "totally unnecessary, heavy-handed and over the top".
But signs that all was not well began to surface when the colourfully-dressed Socialist MSP Rosie Kane took time out to cope with depression.
And, in November 2004, Sheridan announced his resignation as SSP leader, with fellow MSP Colin Fox taking the reins.
He said he needed to spend more time with wife Gail, who was expecting the couple's first child, but, as it later transpired, there were other forces at play.
In parliament, the Socialist group continued to stand up for its beliefs, and, in one of the most lively sessions of first minister's questions, four of their number were banned from Holyrood for a month after marching to the front of the chamber brandishing placards and demanding the right to protest at the 2005 G8 summit, in Gleneagles.
After that, things turned sour for the party.
In August 2006, Sheridan successfully sued the News of the World newspaper after it made a series of lurid allegations about his private life, winning £200,000 in damages after representing himself.
As well as his personal victory, he also saw it as an opportunity to strike at the heart of Rupert Murdoch's News International, which owned the Sunday tabloid.
The left had never forgotten the bitter battles between Murdoch and the print unions during the Wapping dispute in the 1980s.
Despite Sheridan's win, the cracks in the SSP were evident, with 11 party figures, including Mr Fox, Ms Kane and another MSP, Carolyn Leckie, giving evidence against him during the case.
Just one member of the parliamentary group, Rosemary Byrne, supported him.
After announcing he was seeking a split in the SSP, Sheridan went onto set up a new left-wing party, Solidarity.
The new political venture famously earned a musical endorsement from Alice Sheridan, who sang 'The Impossible Dream' to mark its creation.
But the war of words between the two parties escalated, with Mr Fox claiming the move was an indication his old comrade was abandoning a commitment to an independent Scotland.
Sheridan accused his former colleagues of trying to engineer "the mother of all stitch-ups".
And then came the revolution, in the form of the 2007 Holyrood election, where both the SSP and Solidarity were wiped out.
With an intense fight for votes between Labour and the SNP, the public turned away from a group of politicians clearly going through troubled times.
Both the SSP and Solidarity fought on, making their presence felt in national elections and parliamentary by-elections, but failed to make an impact.
Sheridan even appeared as a contestant on Celebrity Big Brother, in 2009, three years after his old pal George Galloway donned a pink leotard in the famous TV house.
Studying law
The next time both sides would hit the headlines was when Sheridan, who stood accused of lying to win his News of the World case, went on trial for perjury.
As before, Sheridan - who latterly took up studying law - moved to represent himself in the case, heard at the High Court in Glasgow.
He presented the arguments in his usual theatrical way, prompting onlookers to suggest he may not have made a bad lawyer.
Sheridan's willingness to go to prison in support of his beliefs is his strongest claim as a radical.
But, ironically, his final downfall - a jail term for perjury - could not have been further from the kind of political ideals he championed.
And what of left-wing politics?
Scotland's association with the movement is deep, but the old political adage that new socialist parties use their first meeting to decide on the split has never seemed truer.
While Sheridan and other socialists had their day in the Holyrood sun, it may be another generation before its impact is felt again.