Cuts warning over Scottish university places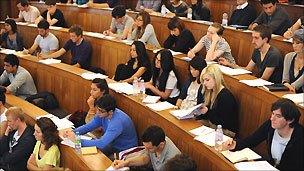 Scottish universities are warning that thousands of student places may disappear if a cut of 16% in funding goes ahead.
The number of places in Scottish universities this year is down 10%.
It has emerged principals are expecting to turn away thousands of extra applications next year and cut the number of subjects and courses.
The lecturers' University and College Union anticipates this will result in 4,000 job losses.
The predictions come as it emerges English universities are in line for extra income with government plans to triple tuition fees to £9,000 a year.
Scottish colleges have said the expected budget cut in their sector is so serious they expect some institutions to close.
Liam Burns, president of the National Union of Students in Scotland, said: "A cut of 16% across Scottish institutions would have terrible consequences for college and university students.
"It's absolutely crucial that we invest in education at this time, not make cuts. We must find the investment needed to get better financial help to the poorest students, and protect college and university places.
He added: "Politicians are fully aware that colleges have had to dip into their reserves over the last few years to get students the financial help they need.
"Any cut to colleges would hit bursary funds hard, and take money directly out of the poorest students' pockets."
A Scottish government spokesman said: "We are all aware of the challenges and pressures which is why, since March this year, the Scottish government has been leading the debate on finding a uniquely Scottish solution that fits our university sector.
"The Scottish government is committed to protecting the reputation and quality of our universities.
"However, we now know that, as a result of the UK government's decisions, Scotland's resources will be cut by £1.3bn next year.
"We will work to build consensus for a budget bill that protects frontline services, sustains economic recovery and builds a low carbon economy."
Related Internet Links
The BBC is not responsible for the content of external sites.