Hi-tech flood alert system planned for Scotland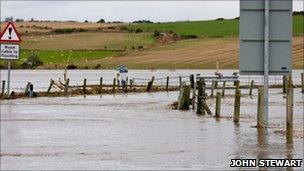 Scots in flood-prone areas are set to benefit from a hi-tech alert system which will warn them by text or a phone call when flooding is predicted.
The system, known as Floodline Warnings Direct, is being developed by BT Business and software company HTK.
The firms won a multi-million pound contract to deliver the system from the Scottish Environment Protection Agency (Sepa).
The service is due to launch in April 2011.
The system will tie in with a new Scottish Flood Forecasting Service, due to be launched in Scotland next March, which will link experts from the Met Office's operations centre in Aberdeen with Sepa's flood forecasting team in Perth.
People who register for Flood Warnings Direct will be able to choose how they want to be alerted.
The system will record and automatically disseminate flood warnings throughout Scotland to partner organisations like the police, fire and rescue and local authorities, as well as the public.
The developers said it would deliver better flood warnings and provide valuable extra time to take action.
Flood warnings are currently issued to the police and published on Floodline, an online and recorded message service, in a largely manual process using phone and fax.
Flood Warnings Direct will allow Sepa to call on the latest geographic mapping technology to define specific flood areas, and actively send alerts to everyone who has registered in the highlighted area.
People will also be able to find flood information on the internet and via the phone through interactive voice response systems based on speech-recognition technology.
Professor James Curran, Sepa's director of science and strategy, said: "This is a significant investment in communications technology which has one purpose - to help people.
"Together we are building the Floodline Warnings Direct service, which will be at the heart of providing the people of Scotland, at home or in their businesses, with a better flood warning service to help them to take action and reduce the impact of flooding on their lives."
Related Internet Links
The BBC is not responsible for the content of external sites.