Malawi teachers get funds boost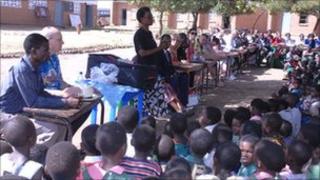 Funding to help up to 1,000 women in Malawi become teachers has been announced by the Scottish government.
It is almost five years since a co-operation agreement was set up between Scotland and the African country.
The Scottish government is supporting the scheme with £400,000 over three years from the International Development Fund.
The project is part of the Teacher Education in Sub-Saharan Africa (TESSA) programme.
Based on the Open University's distance-learning model, TESSA has already helped train more than 400,000 teachers in 12 African countries.
The Scottish government support will enable 1,000 scholarships for the TESSA project to be made available to women who want to be primary school teachers.
The first scholarship holders will start training in April 2011.
External Affairs Minister Fiona Hyslop said: "This project exemplifies the distinctive approach Scotland has taken to our engagement with Malawi.
"Our support is very clearly development, not aid. The TESSA programme is enabling Malawians to gain new skills so they and their communities can work themselves out of poverty.
"With no quick solutions to the many challenges facing Malawi, the Scottish government's commitment is long-term.
"We have delivered on our pledge to double the international development budget, with a minimum of £3m ringfenced for Malawi each year."
The relationship with Malawi was initiated under previous First Minister Jack McConnell and has continued under the SNP.