Labour leader Iain Gray declares 'doorstep election'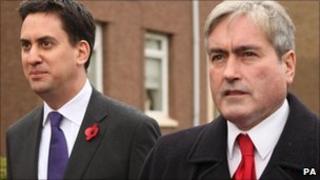 Scottish Labour Iain Gray leader has launched a "doorstep election" campaign, as his party seeks power at next May's Holyrood elections.
At his party's Scottish conference in Oban, Mr Gray pledged to take the campaign to 100,000 homes between now and the New Year.
In his first Scottish conference speech as leader, Ed Miliband attacked the SNP over "broken promises" in power.
The party has been out of power in Scotland since the SNP's 2007 victory.
Mr Gray reiterated his pledge for a "living wage" of at least £7.15 for all workers, which will form a key part of the next Scottish Labour manifesto.
And he said that during the last UK election - which saw Labour lose power but hang on to all its seats in Scotland - the constituencies which saw the biggest swing to the party were where activists spoke to the most people.
"The next Scottish election will be the doorstep election and I pledge to take Labour's campaign to 100,000 doors," said Mr Gray.
"We are going to get the message out that a Labour government will make sure everybody gets a fair wage."
He went on: "There are going to be difficult decisions ahead and there will have to be pay restraint in the public sector, especially at the top, but Labour values demand we protect the lowest paid."
'Left behind'
Mr Gray said the living wage would be introduced in the public sector, followed by a campaign for it to be adopted elsewhere.
First Minister Alex Salmond matched the commitment at the recent SNP conference for those employed by the state.