Cardinal Keith O'Brien calls for Megrahi inquiry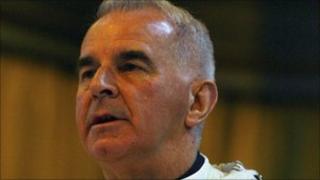 Scotland's leading Roman Catholic is backing calls for an independent inquiry into the conviction of Lockerbie bomber Abdelbaset al-Megrahi.
Cardinal Keith O'Brien said "global accusations of wrongful conviction" must be dealt with.
Megrahi, the only man convicted of the 1988 atrocity in which 270 people died, was released from prison last year on compassionate grounds.
The cardinal will add his name to an online petition calling for an inquiry.
The petition will be presented to the Scottish Parliament.
Dr Jim Swire, who lost his daughter in the bombing, will also sign the petition.
In a statement, Cardinal O'Brien, the archbishop of St Andrews and Edinburgh, described the bombing of Pan Am flight 103 over the Scottish town of Lockerbie as an "act of unbelievable horror and gratuitous barbarity".
However, he said that from the moment Megrahi, a Libyan citizen, was convicted "voices have been raised in protest".
The cardinal said he was "increasingly concerned about the reputation of the Scottish justice system".
He said that if accusations of wrongful conviction were left unheeded "they will weaken the administration of justice in Scotland by casting doubts on its probity and ability".
The cardinal added: "Either a conviction will be upheld and the process vindicated or it will be struck down, demonstrating to the world that Scotland has the wisdom and compassion needed to rectify its mistakes.
"In either event I will willingly accept the outcome."
Megrahi dropped his appeal against his conviction shortly before being freed from a Scottish prison in August 2009, on the grounds that he was suffering from terminal prostate cancer and had three months to live.