Scots men 'save more than women'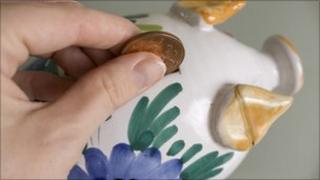 Scottish men are better at saving than women, a new survey has suggested.
According to the Bank of Scotland, 36% of men said they had a savings account compared with only 33% of women.
The survey of 1,000 people also found that nearly one in four women (24%) had no savings at all compared with just one in five men.
At least 85% of those women without savings said they had none because they could not afford it. The figure fell to 73% for Scottish men.
Other reasons given for having no money put aside was a lack of time, while a small minority of men claimed to have no savings account because they did not know how to open one.
Nearly all the men asked (92%) said they had a current account, while 89% of women said they had a similar account.
Both the sexes had similar thoughts on the amount to save, with 16% of men and 18% of women planning to put away between £100 and £1,000 in the coming year.
Flavia Palacios Umana, from Bank of Scotland said: "It is no surprise that so many people feel they have no spare money to put towards savings but what it is important to remember is that you do not need a huge amount to start with."