Free bus travel planning 'weak', warns Audit Scotland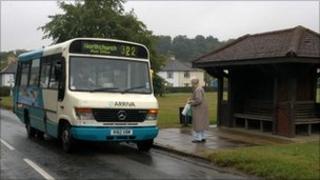 Scotland's spending watchdog has raised serious concern over the scheme entitling over-60s to free bus travel.
Audit Scotland said weaknesses in planning for concessionary travel, introduced in 2006, meant it was still unclear how successful it had been.
In a new report, auditors also warned annual costs for the scheme, at £199m this year, could rise to £537m by 2025.
Ministers said lessons had to be learned, but pointed out the scheme was brought in by the last government.
Audit Scotland said parliament had only limited information when it was first considering the scheme, which also takes in disabled and young people.
The watchdog said the technology needed to run the scheme, measure its impact and prevent fraud, had been hit by a four-and-a-half year delay and was costing £42m, against the original £9m budget.
'Error and fraud'
Auditor General Robert Black, said: "National concessionary travel is popular, with take-up by older people at a very high level.
"But there were weaknesses in how the scheme was planned and implemented. Systems to effectively administer NCT were not in place, and this left it more open to error and fraud."
Mr Black also pointed to research by the Scottish government and the national authority, Transport Scotland, which said concessionary travel has had only a limited impact on preventing isolation among the elderly, improving health and reducing car use.
Reacting to the report, a Transport Scotland spokesman, said: "There are clearly lessons to be learned from how the scheme was initially established under the previous administration and we have taken this on board.
"We have since made a number of significant improvements to the management and delivery of the scheme, particularly in relation to the tackling of fraud and will continue to regularly evaluate the scheme."
The SNP government said it was committed to maintaining the concessionary travel scheme, and previously announced it would be extended to cover injured forces veterans.
In England, the need to cut spending has sparked debate over whether to raise the entitlement age for free bus travel from 60 to 65.