Gordon Brown warning over aircraft carrier contracts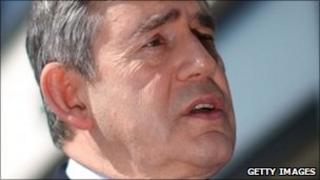 Former prime minister Gordon Brown has warned the UK government against cancelling orders for two Royal Navy aircraft carriers.
He said the costs of not going ahead with the ships "are probably greater" than the costs of completing HMS Queen Elizabeth and HMS Prince of Wales.
Cancelling the carrier contracts could cost £3bn, the SNP government has said.
The future of the carriers is being considered as part of the strategic defence and security review.
Mr Brown, MP for Kirkcaldy and Cowdenbeath, told BBC Scotland that not building the carriers at the Rosyth dockyard, in Fife, and on the Clyde would be a "betrayal".
Speaking from Rosyth, he said there was a defence argument that the Navy needed the carriers, adding: "We have 1,500 people who are serving the country here who are building and assembling parts of the aircraft carriers and they will be essential to the defence of Britain in future years.
"We've got 170 apprentices here who have been taken on specifically for the aircraft carrier and they deserve the right to know that the work that they're doing, which is of great national importance, is going to continue."
Mr Brown's comments came as Defence Secretary Liam Fox warned there would be some, "uncomfortable reductions in defence spending", because of budget pressure.
Speaking to a fringe meeting at the Conservative party conference in Birmingham, he said his department was entering a "very difficult period", but said the "ghastly truth" was that Labour had left a legacy of £38bn of unfunded liabilities at the Ministry of Defence.
The UK government is due to announce the results of its spending review shortly.
The Scottish government and opposition parties at Holyrood have already made a joint case to UK ministers to maintain defence spending.
In a submission to the defence review, they argued the sector in Scotland accounted for 30,000 jobs and has a turnover of £1.8bn.