PM in referendum challenge to SNP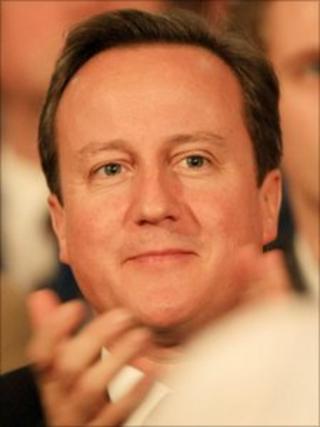 Prime Minister David Cameron has said he is ready to fight an independence referendum if the SNP "ever have the courage" to call one.
Speaking at a Scottish reception at the Tory's Birmingham conference, Mr Cameron said the nationalists did not look likely to hold one soon.
He also said he wanted to see a "full recovery" of the Scottish Tory Party.
The SNP said that if Mr Cameron wanted a referendum he should call on the Scottish Tory leader to support one.
The nationalists dropped plans to hold the poll after conceding that it would not make it through Holyrood without the support of opposition parties.
In response to the PM's call, the SNP's Alasdair Allan said: "The confusion between David Cameron and (Scottish Tory leader) Annabel Goldie continues. Do they even talk to each other?
"The truth is the Tories - like all the London parties - have consistently refused to support the people of Scotland's right to choose.
"If Mr Cameron wants a referendum he should be calling on Annabel Goldie to support one instead of blocking it."
Currently, the Conservative Party has one MP in Scotland and it failed to increase its representation at the general election.
Speaking about the independence referendum on Monday evening, Mr Cameron said: "I will be on that campaign if they ever have the courage to call that referendum on the future of the United Kingdom, but it doesn't look like they do right now, does it?"
However, speaking on the BBC's Good Morning Scotland programme later, Mr Cameron said: "I don't want independence or an independence referendum.
"If there ever is one you'll find me campaigning up and down Scotland with others who want to save our United Kingdom.
"My sense is that (SNP leader) Alex Salmond is slightly going off the idea because I don't think there is a majority for independence.
"I want to keep the United Kingdom together - we're a family. I don't want this family to fall out and I'll always doing everything I can to keep the family together."
At the Monday evening reception, the PM asked Scottish party members to take on their opponents and win the argument about cutting the deficit.
He told them: "It is great to have a Conservative minister in the Scottish Office.
"We face a very big challenge in Scotland - we just have the one member of parliament.
"We have a very strong team in the Scottish Parliament and I just want you to know I am as committed today as I was five years ago when I became leader of this party to help bring about a full recovery of the Conservatives in Scotland.
"While there is breath in my body I will go on fighting for that because I believe there are thousands, hundreds of thousands of people in Scotland who share our vision of the importance of the family, who back entrepreneurship, who believe in the big society, which want to see reform of public services, who always stand up for our Armed Forces and who believe in the United Kingdom."
Mr Cameron also dropped a heavy hint that the aircraft carrier currently being built on the Clyde will be completed, despite the upcoming defence cuts.
But speaking to BBC Scotland, Mr Cameron refused to be drawn on whether a second ship would be built.
One of the carriers is already under construction at Govan, with final assembly due to take place at Rosyth.