Tory coalition deal at Holyrood not ruled out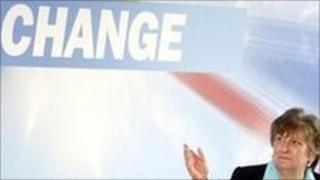 The Tories are not ruling out a coalition deal to get into government after next May's Holyrood election.
The Conservatives began their campaign in the 2007 polls by refusing to do any deals with other parties.
David Mundell, the party's sole Scottish MP, said the focus was on winning as many seats as possible, but said nothing was being ruled in or out.
However, the SNP has ruled out a coalition with the Tories and it is unlikely Labour would do such a deal.
Scotland Office minister Mr Mundell told BBC Scotland's Politics Show: "I'm certainly not saying we're going into coalition with anyone.
"What I'm saying is we don't rule anything in, we don't rule anything out."
He added: "We don't pre-judge the electorate and we're not getting into some discussion as to how Scotland's government, Scotland's parliament, should be carved up ahead of the election."
During the last Scottish election campaign, Scots Tory leader Annabel Goldie entered into a strategy of taking things forward on an issue-by-issue basis.
She said at the time: "Our manifesto policy commitments are not for sale in any post-election horse trading process since other parties can cobble up deals behind closed doors."
Mr Mundell's comments came as a review of the Scottish Conservatives is underway, spearheaded by Lord Sanderson.
Despite the Tories gaining almost 100 seats across the UK at the UK election, the party failed to improve on the one seat it held north of the border.
Reacting to the idea of a Tory coalition, an SNP spokesman, said: "This idea is total nonsense. There is no possibility whatsoever of a coalition deal with the Tories at Holyrood now or in the future."
Scottish Labour leader Iain Gray has not ruled out the possibility of minority government, should his party win the most seats next May.